Debbie Akhigbe
Libero
Class of 2023
Six Pack indoor volleyball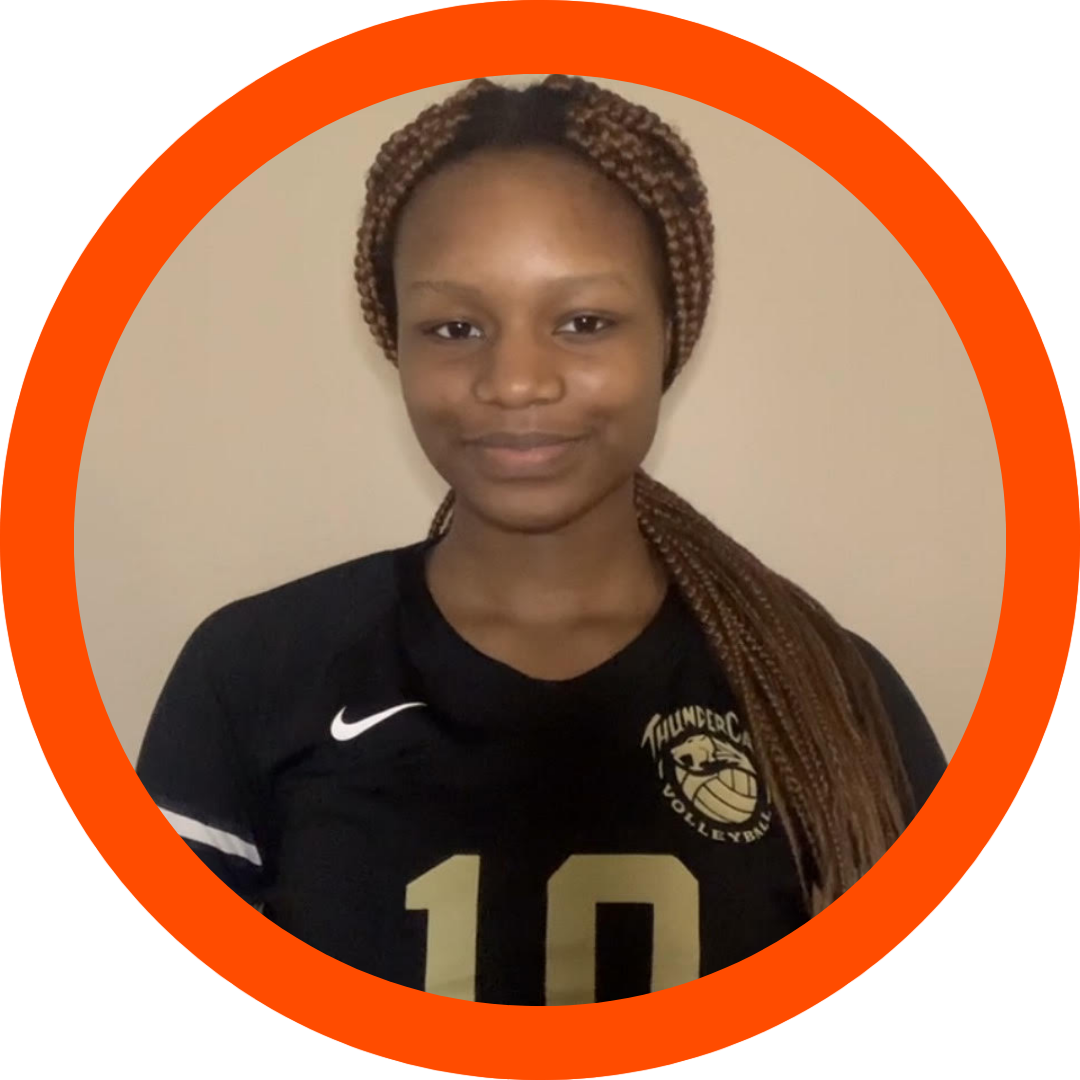 Discipline for Recruitment: Indoor
Height: 5'6″
2018-2022 Thundercats Volleyball Club

14U-17U club member (setter/libero/right side)

2020 Most Improved Player Award

2019 Most Improved Player Award

Stephen Lewis Secondary School

2021-2022 SLSS Sr. Girls volleyball team (setter, libero)
Finished fourth in our tier

2020-2021 no season due to covid

2019-2020 SLSS Sr. Girls volleyball team (setter)
Practised with sr. team and played in a couple games as setter

2019-2020 SLSS Jr. Girls volleyball team (team captain, setter)
Finished fourth in our division

Stephen Lewis Secondary School, Vaughan , ON
Class of 2023
2019-2022 Honour Roll student (current average 89%)

2020 Volunteer at Ontario Volleyball Association tournament
Line judged, operated score sheets, set up and took down equipment

2019-2020 Team captain, SLSS Jr. girls volleyball team
Committed to a leadership role to ensure success of team

2018-2020 Nursery volunteer at Prayer Palace Church
Took care of children aged 1-2 during service
Ended due to pandemic

2018-2019 Dr. Roberta Bondar Public School Fundraising Committee
Organised fundraising events and sold goods to students

2018-2019 Dr. Roberta Bondar Public School Character Committee
Organised monthly character trait assemblies and presented to student body
Five words you can use to describe yourself on the court.
Immersed
Aggressive
Uplifting
Dominant
Lively
Five words you can use to describe yourself off the court.
Calm
Thoughtful
Goal-oriented
Humorous
Persevering
Describe how you work in a team with your partners.
Working in a team is something that I thoroughly enjoy. Working in teams has created so many opportunities for me to grow and become a better athlete. That being said, I work very well in teams. I am always open to new advice and tips from my teammates, as they are open to mine as well. I am always very supportive of my team and uplift them whenever I can. I also have the ability to take on the role of the leader if need be. I love that as a young woman, I have the ability to work with other like-minded, hardworking young women. The bond that I form with my team each season is something that I will never forget, and the many things I have learned from them will stay with me for a long time.
Athletic highlights and how you felt when you received them:
2020 Thundercats Volleyball Club – Most Improved Player
2019-2020 SLSS Jr. girls volleyball team – Team Captain
2019 Thundercats Volleyball Club – Most Improved Player
When I received these athletic highlights, I felt very grateful, and my determination towards the sport of volleyball grew. Receiving these awards made me realize that me always showing up on time, working my hardest, and being attentive during practice has paid off. More specifically, being team captain of my school's volleyball team during the 2019-2020 season made me aware that my leadership skills and helpful attitude towards my teammates did not go unnoticed.
What are your interests outside of sports? Why do you like them?
Outside of volleyball, I enjoy spending time with friends, going to the gym, and occasionally baking. When I spend time with friends I am always put in a good mood. My friends and I enjoy going to school sports games, the movies, or sometimes just walking around the neighbourhood. I'm very grateful for the friends I have as I can always count on them. Also, I like going to the gym because apart from playing volleyball, it's the one place I can go to get a mental break and be in my own world for a while. I always leave the gym feeling healthy, strong, and content. Occasionally, I'll make some baked goods, but never anything too extravagant. Typically it is boxed cake mix or pre-made cookie dough that I add my own twist to.
Who are your role models and why?
My role model is the man who was my head coach this season and in 15U, Rouzbeh Rahnavard. He is an eccentric, caring coach who constantly pushes everyone around him to be better. Back in 15U, at the age of 20, he was head coaching my team while being a full time student athlete at Durham College on the men's volleyball team. He would attend classes, go to his team's 2 hour practice, then drive 1 hour to coach my team for 2 hours, then drive back to campus for classes the next day. Now, at the young age of 22, he is the head coach of 4 teams for Thundercats Volleyball Club.
His immense dedication to the sport of volleyball impresses and inspires me everyday. During practices and tournaments, he reminds me that no challenge is too big to overcome, and that it is very possible to achieve your dreams if you are willing to put in the hard work. Not only does he push me to be better verbally, but physically as well. During practices (and through zoom calls during pandemic lockdowns), he regularly pushes me to my limits, shaping me to be the best athlete I can be. Nobody that I know would go to the lengths that he does to get better at a sport while also helping and motivating others throughout their journey. I could only hope that one day I'll have the opportunity to make a positive impact on as many lives as he has.
Academic highlights and how you felt when you received them?
At my Grade 8 graduation ceremony, I was recognized for being on the Honour Roll. Now that I am in high school, I have been able to maintain my Honour Roll status in Grades 9 and 10, and I am on track to finish grade 11 on Honour Roll as well.
I felt really good when I was recognized for being on the Honour Roll, as it was proof that all the effort I put into doing well in school has paid off.
What program would you like to attend in school?
In university, I would like to pursue a degree in either Business Commerce or Business Administration. More specifically, I would like to specialize in marketing. Through business and marketing courses at my high school, I've come to realize that I have a great interest in marketing.
How do you envision your school life in college/university?
In university/college, I see myself being driven by the fact that I have the incredible opportunity to play on a university/college volleyball team. I see myself putting in the work to balance going to practice, games, and lift sessions, while keeping my academic scores up to par. I also picture myself having a blast with my teammates during practice, and with the new friends that I have made!
Will understand each and every athlete to ensure your recruiting experience is enjoyable and relaxing.
Regular online group meetings offering support with updates about your recruiting profile.
Will provide full email support during the recruiting process.
Professional athletic resume to be provided.
Will pre-screen in order to work with Canadian,  United States and overseas coaches.