Juliette G.
Middle Blocker
Class of 2023
Team Quebec
Six Pack Indoor Volleyball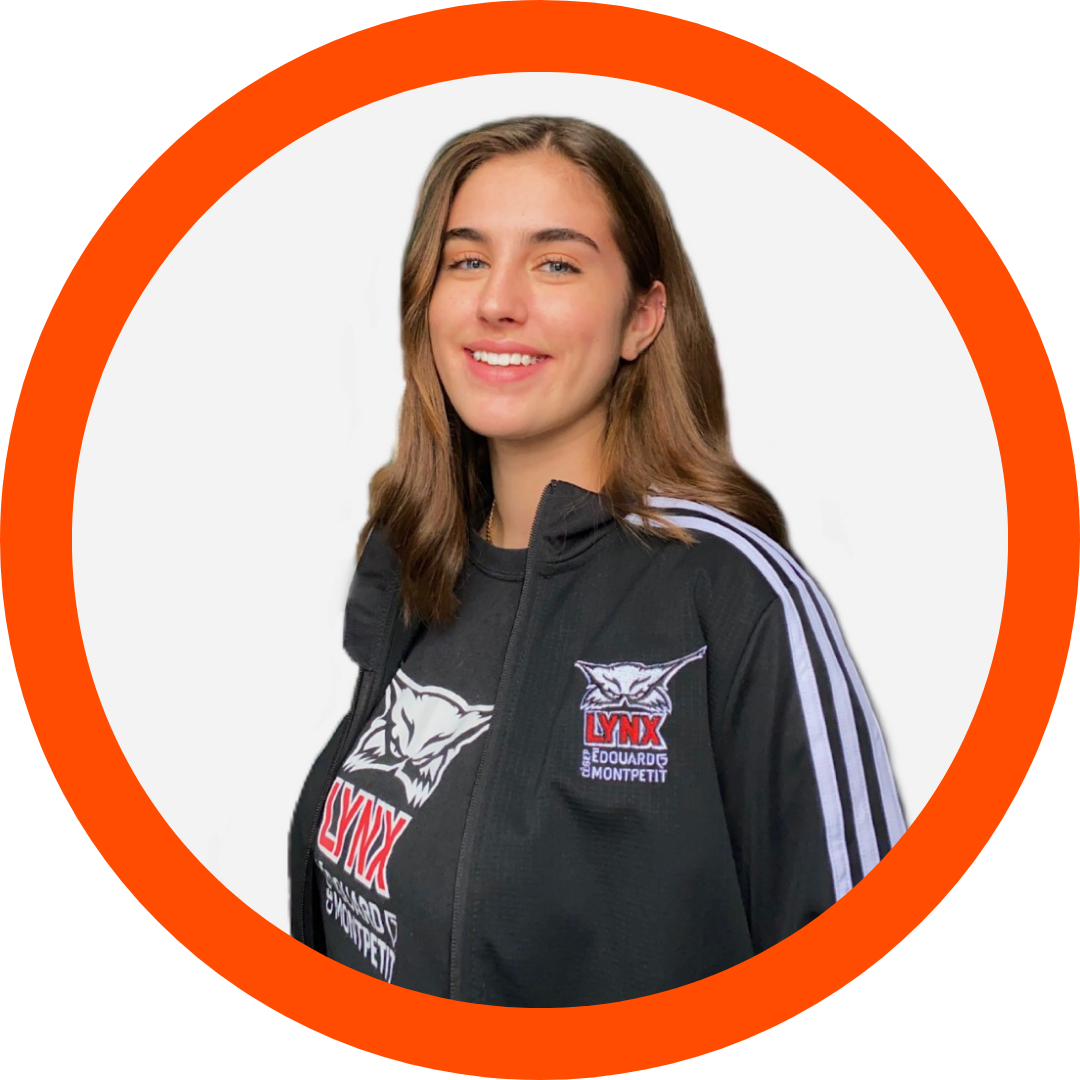 Height: 6'1
Spike: 3.00 m
Block: 2.80 m
T-Test: 9.75 seconds
Back toss: 10.80 m
Five words you can use to describe yourself on the court.
Competitive
Encouraging
Resilient
Focused
Coachable
Five words you can use to describe yourself off the court.
Outgoing
Disciplined
Confident
Enthusiastic
Perservering
Describe how you work in a team with your partners.
I communicate a lot with my teammates to decide the tactics that will make us win the game. I have no problem receiving criticism from my teammates. I always encourage others and I make sure that my team is always united as much in the victorious moments as in the failures. At a critical moment I am the one who is able to get my team to work harder and not give up.
Athletic highlights and how you felt when you received them.
In 2019, it was my first year in juvenile division 1. My expectations were not as high as they are now, but my team and I performed well. We finished in third position at the provincial championship and in first place in the regular season in terms of points. I was really happy, and it proved me that anything is possible when you work hard. In May 2019, my team and I won the 17th place at the U17 Canadian Championship among a hundred teams. I felt really proud and this proved me that I can carve out a place for myself nationally. In April 2019, I won the first place at the U17 provincial civil championship. I felt proud once again because we won the game against our biggest rivals. It was intense! For my second year in juvenile division 1 in 2020, my team and I won the first place at the provincial championship. We have been working hard for two years for this. I won the female student-athlete prize for sport and study perseverance category at the 2018 RSEQ gala and I won the Effort and Perseverance award at the end of the 2019-2020 season. It proved that I never gave up even though I was injured at the start of the season.
Involvement in other sports or extracurricular. Why is it important for you?
I did cross-countries and aquathlons in high school. Now I do rhythmic fitness classes in cegep. At home, I run either outside or on my treadmill. I really enjoy swimming and running because these two disciplines develop my endurance and
my cardio. I think this is important as a middle blocker because you have to be "everywhere" and during a long rally you have to do a lot of quick moves.
What are your interests outside of sports? Why do you like them?
I love playing ukulele. I think it's relaxing, and it helps releasing my stress. I played a lot of ukulele during quarantine. I also do modeling for a Quebec artisan jewelry store. I love to model since I am comfortable in front of the camera. Modeling helps bring out my feminine and girly side. It also allowed me to gain more self-confidence.
 Who are your role models and why?
My dad is my role model because he taught me to work hard to achieve my goals even if I had to take a more difficult path to achieve the same result as someone else. He taught me to be disciplined and discipline is now a quality I use most to reconcile sport and study. He taught me that a good attitude is ideal for learning better and for training better.
Academic highlights and how you felt when you received them.
During my five years in high school, I received the Distinction in Studies award every year. It is gratifying to know that my efforts to have good grades are rewarded.
What program would you like to attend in school?
Law or psychology
 How do you envision your school life in college/university?
I want the best experience. I want to combine fun, dedication and effort. I want to work hard and play hard. I want to represent a university in the best possible way. I want to perform as athletically as academically.
2020 Volleyball Schedule:
DUE TO COVID-19 ALL TOURNAMENTS POSTPONED 
Cegep Edouard-Montpetit
Class of 2023
(pre-college university program unique to Quebec)
College Jean de la Mennais
graduated from grade 11
84% class average
High School sports and participation: 
Lynx of Edouard-Montpetit team
will graduate from Cegep 2023
Amiral of Jean de la Mennais team
Team Quebec High Performance
2020 Middle Blocker
2019 Middle Blocker
Quebec Volleyball Association: 
2019 Bronze medal Provincial Championship
2019 17th Canadian National Championships
Awards and Recognition:
2018 Sport & Study Perseverance  RSEQ Gala
2019 Effort and Perseverance
Distinction in Studies award
Instagram: juliettegosselinn
OCTOBER 2020
Cegep Edouard-Montpetit
(pre-college university program unique to Quebec)
Will understand each and every athlete to ensure your recruiting experience is enjoyable and relaxing.
Regular online group meetings offering support with updates about your recruiting profile.
Will provide full email support during the recruiting process.
Professional athletic resume to be provided.
Will pre-screen in order to work with Canadian,  United States and overseas coaches.