Kameryn Vanwallegham
Split Blocker / Defender
Team Ontario Beach
Class of 2023
Six Pack beach volleyball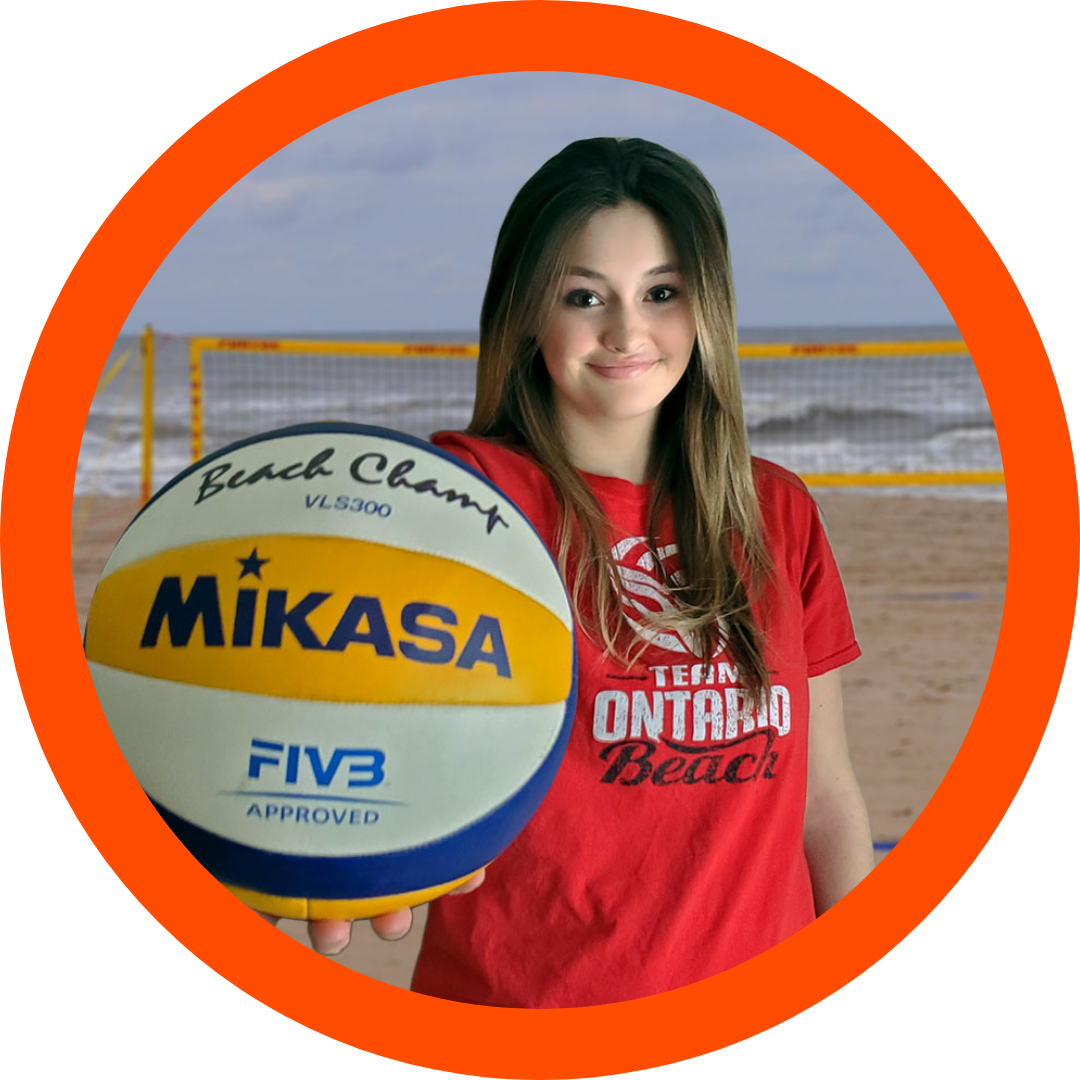 Height: 6'2″
Spike: 9'5
Standing Reach: 7'9″
DUE TO COVID – TOURNAMENT PLAY  POSTPONED FOR NOW
5 words to describe me on the court are, determined to get every ball and make a good play in the outcome, competitive to win every match or joust at the net, power to hit every ball at 110%, passionate to succeed and gain knowledge, control over how I want to play and my mind while playing the game.
5 words to describe me off the court are, compassionate, competitive, ambitious, witty, confident
The way I work with my partners and my teammates are that I try to always stay positive with them and help boost up their confidence. I use words like that's ok you'll get the next one, or you can do this. I think I work well with anyone and have good collaboration on and off the court. 
One of my athletic highlights was when I received my MVP award last season. I remember thinking it's going to be another girl on my team, but then my name got called and I felt so proud and achieved with all the hard work I put in that year. Another athletic highlight was a tournament last year and I was playing right side, the play was a free ball pass and a beautiful back set from our setter, I remember getting ready to hit a back 3. I went up with all the power I had and saying to myself that this is going to be the best hit I ever did. Boom just like that the best hit from the right side I have ever hit scored the point and I turned to my team so proud not just of myself but my teammates and the beautiful play that had just happened.  I will forever remember that play and day for a long time.
I have never really been involved with other extra curricular, but I used to play soccer, basketball, and track in elementary. Even though they were never the sport I loved I think it is really important to reach out and try new things even if they are not your preference. I really think that knowing how to play other sports helps the sport you focus on and prefer. So in elementary school, I played other sports while still focusing mostly on volleyball.
Some interests outside of sports might not be what you think of when you think of other things. I really enjoy interior design and online design and art.  I enjoy painting and designing rooms and adding detail to mine. I also enjoy making collages online and just endless scrolling on Pinterest for art ideas.  I have recently found an interest in photography (taking and editing photos) I create my own filters on lightroom and add them to all my pictures. 
My role models are Kerri Walsh Jennings and Melissa Humana-Paredes. Kerri Walsh has been my role model ever since I started volleyball and she has been someone I have always looked up to because she is strong and confident and with kids and a husband, she managers to compete in the Olympics, showing me that you can really do anything if you work hard enough. Melissa had been a role model for me on the beach. I loved the fact that she is Canadian and still being on the shorter side she is still accomplishing the unthinkable.  I look up to her because she is always pushing herself to be a better player and person and role model, someone like I would want to be in the future. 
Some of my academic highlights are pretty recent actually. I have never been the strongest in math and I struggled at the beginning with lower than wanted marks. I put my mind to it and aimed high. I was in quarantine after being in contact with a covid case in October and I was off from school doing it online. We had a test coming up the following week we got back. I put my mind to it and studied hard for 1 ½ weeks prior. I went into the test feeling confident and came out in high 90's and raised my math mark back above 80%. I felt so accomplished with myself and I proved to myself that I can do anything I put my mind to.
A program I have gained interest in has been marine biology, studying animals, and going into the ocean. I have always been drawn to the ocean and marine life. I have been thinking that it might be something I might be interested in. Another program I might be interested in is interior design or some other creative field.  I really enjoy decorating and making rooms come to life. 
I envision my life in college/university somewhere warm hopefully with a beach scholarship to help my parents from paying so much for me. Waking up in the morning studying for whatever program I end up doing, then going to the beach to train for the rest of the day sounds nice to me. I imagine having good grades and being the best volleyball player, I can be. Always pushing myself in school and in practice. 
Kameryns rise to the top of the volleyball world in Northern Ontario is one of pure inspiration as only 2 years prior to starting her career she was finishing treatment for a life threatening cancer known as Leukemia.  And now she sits one step closer  to realizing her dreams of playing Volleyball on the biggest stages possible.
Kam started playing Volleyball both School and Club at age 11.  She has been playing competitive Volleyball for 4 yrs, through school and club having played the positions of Setter, Middle Blocker and Right Side Hitter.  Kameryn stopped all other sports very early on, as she developed a pure passion and love  for the game of volleyball, training very hard both on and off the court to ascend as one of the premiere young women players  ever to come out of Sudbury, culminating in one of the youngest ever in Northern Ontario to be identified by the Ontario Provincial program selected well  before her 15th birthday.
Kameryn is no stranger to the big stages as she has competed in Provincial and National Championships both on the court and the beach, having an excellent young career on the beach with perennial top 10 finishes in both provincial and national championships.  Her ascension in height and skill also propelled her club team from a dismal 47th ranking in her 2nd year all the way to reach as high as 7th in the province in her last full year U15, where she was named team Co-Captain and awarded  the MVP.  She was also team captain and MVP on all her school teams starting back in Grade 8.
Ontario Volleyball Association
2021 Team Ontario Beach 
2021 Team Ontario Indoor
16U age group
Middle Blocker
2020 Team Ontario Beach Red
2019 Team Ontario Regional Program
Region 2 participant
University of Guelph Training Camp
Ontario Volleyball Beach Tour
2019 Top 10 finish
2018 Top 10 finish
Canadian National Championships Beach Volleyball
2019 Top 15 finish
2018 Top 15 finish
Clubs and Program Involvement
2021 Norther Chill Volleyball Club
U16 team
Middle / Right Side hitter
2020 Club Team MVP
2018 Most Improved Player recognition
2019 OVA Award of Excellence 
Lo-Ellen Park High School
Junior High School Awards and recognition
2018 Distinguished Student Award
2018 Honours recognition
2018 Phys Ed Award
Multi Sport athlete and participation: 
Beach Volleyball
Volleyball
Instagram: @volleyballkameryn
Will understand each and every athlete to ensure your recruiting experience is enjoyable and relaxing.
Regular online group meetings offering support with updates about your recruiting profile.
Will provide full email support during the recruiting process.
Professional athletic resume to be provided.
Will pre-screen in order to work with Canadian,  United States and overseas coaches.