Madison McRae
Outside Hitter
Class of 2023
Six Pack indoor volleyball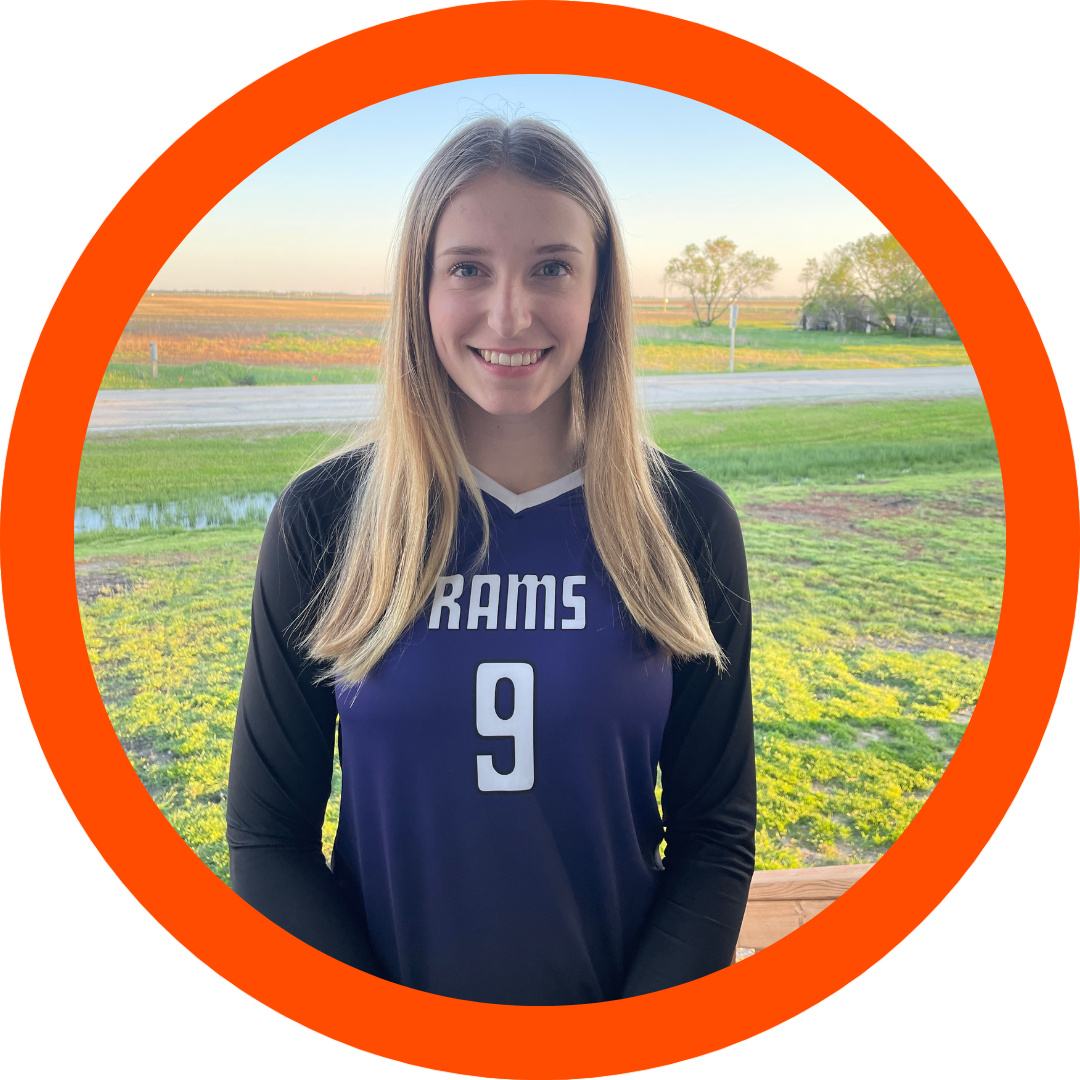 Discipline for Recruitment: Indoor
Height: 5'11"
Spike Touch: 9'7″
Block Touch: 9'2″
Standing Reach: 7'7″
Serving velocity: 66 km/hr
Attack velocity: 72 km/hr
2022-2023 Cobras U18
- left side

2021-2022 Bandits U17C
- right side, left side
- Bronze at 2022 Volleyball Manitoba Provincial Championships U17 girls
- Silver at Bandits Tournament
- Team spirit award at Nationals

2020-2021 Dynamo U16
- left side, right side
- no tournaments due to covid

2019-2020 Vision Black U15
- Team Captain
- left side
- half season due to covid
- Sliver at Brandon Cats tournament

2018-2019 Vision Chaos U14
- Team Captain
- Left side
- Gold at Premier Tournament

2019-2022 Stonewall Colligate Rams Volleyball
- middle & left
- 2020: W.W.A.C. JV, Tier 2 Volleyball Champions

Stonewall Collegiate Institute
Graduation 2023
Program of interest in University: Law
- 2021-2022 Award of Excellence, Merit Award, 90.8% Average
- 2020-2021 Award of Excellence, Merit Award, 92.3% average
- 2019-2020 Award of excellence, Merit Award, 91.2% average

- Graduating All Star 2022/2023
- Players choice award 2022/2023 AAA provincials

I'm and active member of my school leadership team
- December 2022 I organized a volleyball tournament to fundraise for the Christmas cheer board
- November 2022 I was an organizer of a leadership conference in Stonewall Manitoba
- I'm currently organizing a 5k Run/ Walk to raise money for the Ronald McDonald house

- U17/18 doubles
- U16 triples
Five words you can use to describe yourself on the court.
Energetic
Calculated
Resilient
Motivated
Passionate
Five words you can use to describe yourself off the court.
Compassionate
Generous
Confident
Respectful
Driven
Describe how you work in a team with your partners.
I believe working with my teammates is fundamentally important in having a successful team. I've always made it a priority to become a close knit community so we can achieve success on and off the court, so we can build strong bonds of friendship and durable relationships on the court. There is no I in team We must work as one movement. To work as one though I believe we all need our individuality, we all play our own roles in developing a successful and positive team. My role consist of being someone who's motivational and positive, I lift my teammates whenever possible and I do my best to figure out how to motivate and reassure each individual player on my team. I believe that my passionate and energetic attitude contributes to any and all teams I play on. I've been told by many teammates, coaches, and parents that I am a positive role model and a bright player on and off the court. I take great pride in my attitude towards others, I know attitudes and mentality's can make or break a team so I make sure my attitude and mentality are positive, motivating, and reassuring. We win as a team and we lose as a team, so after every game and practice I enjoy reflecting on what we did well and on what we can improve. There's no way to get better without making mistakes and excepting constructive criticism therefore communication is key. I'm an open and honest player with my teammates and coaches to continue developing my skills and my teams skills. I'm open to criticism and I take every chance to get better and to help my teammates with their journey as well. Volleyball is the ultimate team sport which is one of the reasons I love it so much, the strong bonds and friendships I make last a lifetime I am so glad that the girls I have met through volleyball will be my lifelong friends.
What are your interests outside of sports? Why do you like them?
Outside of sports I enjoy spending time with friends and family, and my hobbies include reading and travelling. My family is the most important thing in the world to me, they come first. I grew up in a small town where my family was constantly outdoors and being active, we've always had a busy schedule. I have one sibling, my brother, he has a disability which some might see is a flaw but it makes him the sweetest and most caring person in the world. He is my big brother who I love so much, he's funny and always there for me whenever I need. Growing up I've had a super close relationship with my mom, my dad, and my best friend my brother. My friends are like family to me, I can be myself around them and not have to worry about judgement or the outside world. We have so many memories together and I look forward to making so many more. I enjoy reading because it is an escape from reality, when times get tough and life is busy I can escape to world of my imagination. I also love to travel, I find nature so beautiful as well as my keen interest in architecture. Some of my fondest memories include a wild trip to Mexico where we stayed off resort and it was the most thrilling time of my life. I've also been to many places through travelling with hockey, softball, and volleyball each place bringing a different experience to me. I look forward to seeing more wonderful sites in my life, to making more memories with my friends and family, and overall just enjoying my life with sports, loved ones, and experiences.
Involvement in other sports or extracurricular. Why is it important for you?
I started sports at the age of 5, and I've been a dedicated athlete ever since. I began by playing hockey and softball, then literally ever school sport I could from grade 5 until the end of high school. I've met some of my closest friends through my multi sport life, that's one of the reasons why my sports are so important to me. Multi sports also keep me a well rounded athlete. By playing many sports it keeps my body and muscles engaged in different forms of athleticism keeping me in great shape. Currently I am playing softball for the Interlake Phillies, whom I've been playing for since I was 11. After volleyball, softball is my favourite sport. Through school I've played volleyball, softball, track and field, and badminton. With Covid interrupting my high school years it was tough and I didn't get as many opportunities as I'd like but I did try my best. In grade 8 when I started track and field I have excelled in shotput, long jump, triple jump, and discus. Every year I competed in track and field I have placed very high getting medals and ribbons. While volleyball is my main sport I enjoy playing multiple sports to keep up with my other friends, my other athletic abilities, and just to enjoy life, and my competitive edge.
Academic highlights and how you felt when you received them?
I am a devoted student and I have been for as long as I can remember. I take great pride in my schoolwork and learning for I know how important it is. In the 2019 to 2020 school year I was awarded a merit award Certificate and a medal of excellence for having a 91.2% average. In the 2020 to 2021 school year I was awarded a marital certificate and a metal of excellence for having a 92.3% average. In the 2021 to 2022 school year I was awarded a merit award certificate and a medal of excellence for having a 90.8% average. I was beyond thrilled when I was awarded these. I am dedicated to my schoolwork and Being a good student. I've taken many classes to advance in math science and English and my grade 12 year will be no different. I look forward to getting a fourth medal of excellence next year to complete my set.
What program would you like to attend in school?
I want to become a lawyer, a prosecutor to be exact. I'm striving to get an undergrad in either political science or criminology, then complete the Juris Doctor degree. I've been interested in law for as long as I can remember and I'm excited to pursue it through my life.
How do you envision your school life in college/university?
I've been planning on going to University who as long as I can remember. The next chapter in my life is going to be exhilarating, and lots of hard work. For University my dream is to play volleyball and study law, I want to have a successful career and life and I know going to University will give me that, and playing volleyball in university would be a dream come true. I am so passionate about volleyball and I know that playing and university will take me to the next level. I'm excited for the experiences I will have, classes, new friendships, and working towards a successful life.
Will understand each and every athlete to ensure your recruiting experience is enjoyable and relaxing.
Regular online group meetings offering support with updates about your recruiting profile.
Will provide full email support during the recruiting process.
Professional athletic resume to be provided.
Will pre-screen in order to work with Canadian,  United States and overseas coaches.