Maya Bukovcan
Middle Blocker
Class of 2025
NCAA # xxx-xxx-8521
Usports # xxx-xxx-5AA
Six Pack indoor volleyball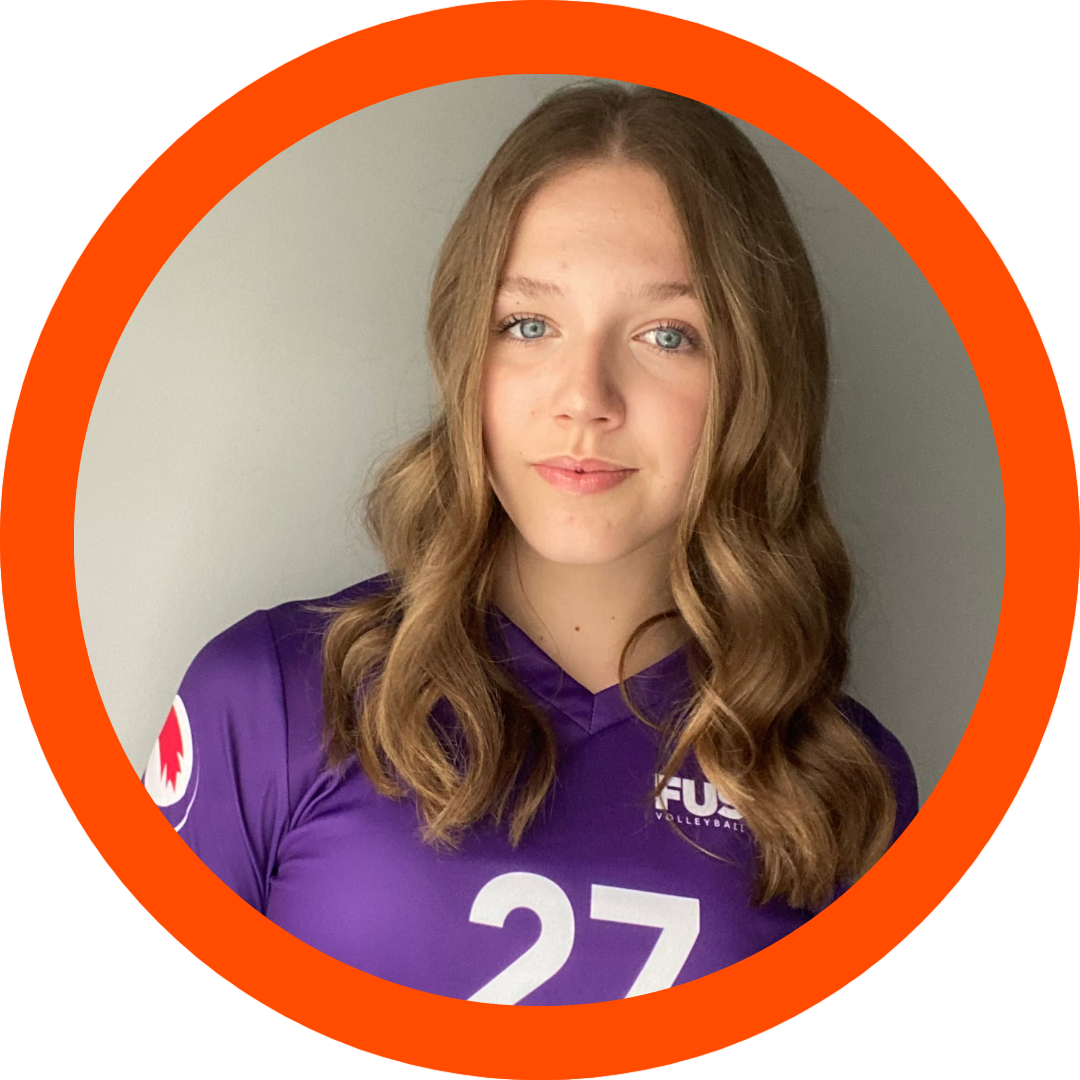 Discipline for Recruitment: Women's Indoor Volleyball
Height: 6′ 1″
Spike Touch: 10′ 1″
Block Touch: 9′ 8″
Standing Reach: 8′ 4″
Wingspan: 6′ 6″
Vertical: 21.5″
Oct 29th – 42e Omnium Thérèse-Martin – Joliette, QC
Nov 4th – OVA 17U Provincial Cup – Kingston, ON
Dec 2nd – OVA 17U Challenge Cup – TBD
Dec 15-16th – Canadian University Volleyball Showcase
2023-24
Ottawa Fusion Elite HP Purple 17U
Coached by Sam Ojie

2022-23
Ottawa Fusion Elite HP Purple 16U
Finished in Division 1 (28th Overall in Ontario)
Coached by Sam Ojie

2021-22
Ottawa Fusion Purple Sam 15U (Competed in 16U the entire season)
Coached by Sam Ojie

2022-23 (Grade 10/Sophomore)

Junior Girls Athlete of the Year

Track & Field
High Jump, Hurdles and Discus
Team MVP

Senior Co-ed Volleyball Team
Middle and Outside Hitter

Junior Girls Tier 1 Volleyball Team
Team Captain
Middle and Outside Hitter
Team MVP

Tennis
Female Doubles
NCSAA Silver Medalist

2021-22 (Grade 9/Freshman)

Junior Girls Volleyball Team

Track & Field
High Jump and Hurdles

All Saints Catholic High School
Kanata, Ontario
French Immersion Program

2022-23 (Grade 10/Sophomore)
91.4% Average (at Semester 2 Midterm)
4.0 GPA

2021-22 (Grade 9/Freshman)
96.7% Average
4.0 GPA
Honour Roll With Distinction
Highest Average in the High School
Finished Top 25% in the University of Waterloo Math Contest - Pascal

Program of Interest - Health Sciences, Kinesiology or Medical Sciences

2022-23 Awards

All Saints Junior Girls Athlete of the Year Award

Junior Girls Volleyball Team MVP

Track & Field Team MVP

2022-23 Tournaments

Playing with Ottawa Fusion Elite HP Purple 16U:

16U Provincial Cup Championship D - 7th
16U McGregor Cup Championship C - 2nd
16U Capitol Hill Classic Open - 49th
17U Bugarski Cup Championship D - 1st
16U Bugarski Cup Select B - 9th
16U Ontario Championships - 4th Div 1 Tier 4

Called up to Ottawa Fusion Elite HP Purple 17U (Playing 1-2 years up):

17U Omnium Volleyball Québec Vert et Or Div 1 - 7th
17U Provincial Cup Championship C - 2nd
17U Challenge Cup Select B - 4th

Peer Tutor 2022-23
Math, Science and French

Volunteered at Volleyball Nations League Week 1 Ottawa - 2022 & 2023
Five words you can use to describe yourself as a high performance athlete.
Competitive
Ambitious
Coachable
Leader
Tenacious
Five words you can use to describe yourself off your field of play.
Charismatic
Confident
Responsible
Independent
Driven
Describe how you work in a team.
In a team, I typically act as a motivator and energy booster. During games, I am always vocal on the court, hyping up my teammates when they make good plays and reassuring them when they make mistakes. When I am on the bench, I stay engaged in the game and am sure to be loud, supporting my team. At practice, I always show up excited and ready to play, motivating the team through my energy. Off the court, I love to have fun with the team and share some laughs.
Athletic highlights and how you felt when you received them:
An athletic highlight that sticks out to me is when I won the Junior Girls Athlete of the Year award at my high school in 2023. The main emotion I felt after receiving the award was pride. I was so proud of myself that all of the early morning and after school practices of tennis, track and volleyball had all paid off. Overall, I was extremely happy, knowing that I had left an impact on athletics at my school and was recognized for it.
What are your interests outside of sports? Why do you like them?
Outside of sports, some of my interests include travel and music. I love traveling because it gives me the opportunity to learn first hand about different cultures and social norms, and to appreciate our similarities and differences. I love listening to a wide variety of music and I enjoy live music too. Music allows me to express myself in a way unique to myself.
Who are your role models and why?
Some of my role models include Sam Ojie, Michael Jordan and my mom. My coach Sam inspires me to follow my dreams, as he is living proof that one can achieve whatever they set their mind to. Sam was born in Nigeria, and through his determination and hard work, he made it out of his home country to play professional volleyball in Europe, then moved to the US to coach NCAA. His story and his words truly inspire and motivate me to chase my dreams and make them a reality. Michael Jordan is a role model to me because he exemplified excellence. MJ was a true champion with a win at all costs mentality. He always tried to make his teammates better and even in loss, he would still act professionally and congratulate his opponents. My mom is also a role model to me because she exemplifies what it means to be supportive. She has always supported me in everything I do and loves me unconditionally.
Involvement in other sports or extracurricular. Why is it important for you?
As much as my heart is with volleyball, involvement in other sports is very important to me as it keeps me a well rounded athlete and teaches me skills to succeed on and off the court. Two of my secondary sports include track and tennis.
On the track team, I compete in high jump, hurdles and discus. High jump helps me to refine my jumping technique, allowing me to jump higher on the court. Hurdles help me to boost my speed, as well as improve my footwork, from doing track drills, which helps with my blocking and defensive speed and agility on the court. Discus helps me with my shoulder strength, allowing me to hit harder on the court. Tennis helps me with endurance, lateral movement on the court, as well as cognitive training, learning how to read the opponent and find the open space.
The true importance of playing extra sports for me is what goes on in the classroom and at home. With limited time outside of sports, I've had to learn to be extremely productive, using all the time I have in class and after school to the best of my ability, to get work done as efficiently as possible, to my standard of quality. It can lead to some late nights here and there, but in the end it always pays off getting marks that I am happy with.
Overall, playing multiple sports not only helps with my physical literacy, but it also helps with my time management skills.
Academic highlights and how you felt when you received them?
An academic highlight is the academic awards ceremony that happened after my grade 9 (freshman) year. Going into the ceremony, I knew that I would be on the honour roll with distinction (90% or higher average), but what I didn't know was that my 96.7% average was the highest in the entire school. I was over the moon when receiving the award for the highest average. It was an amazing feeling knowing that all of my hard work and late nights of studying after sports practices had paid off.
What program would you like to attend in school?
I would like to attend a Health Sciences, Biology or BioMedical Sciences program in university, with the long term goal of potentially pursuing Medical School, or working in the pharmaceutical industry.
How do you envision your school life in college/university?
I envision my life in university to be very busy, yet very balanced between academics, athletics and time with friends. I thrive off of being busy and have developed good time management skills throughout high school. I'm very excited to have a positive and rewarding university experience!
Will understand each and every athlete to ensure your recruiting experience is enjoyable and relaxing.
Regular online group meetings offering support with updates about your recruiting profile.
Will provide full email support during the recruiting process.
Professional athletic resume to be provided.
Will pre-screen in order to work with Canadian,  United States and overseas coaches.