MISHA HAMEED
2021 Team Alberta
Outside Hitter
Class of 2023
NCAA # xxx-xxx-2058
Six Pack indoor volleyball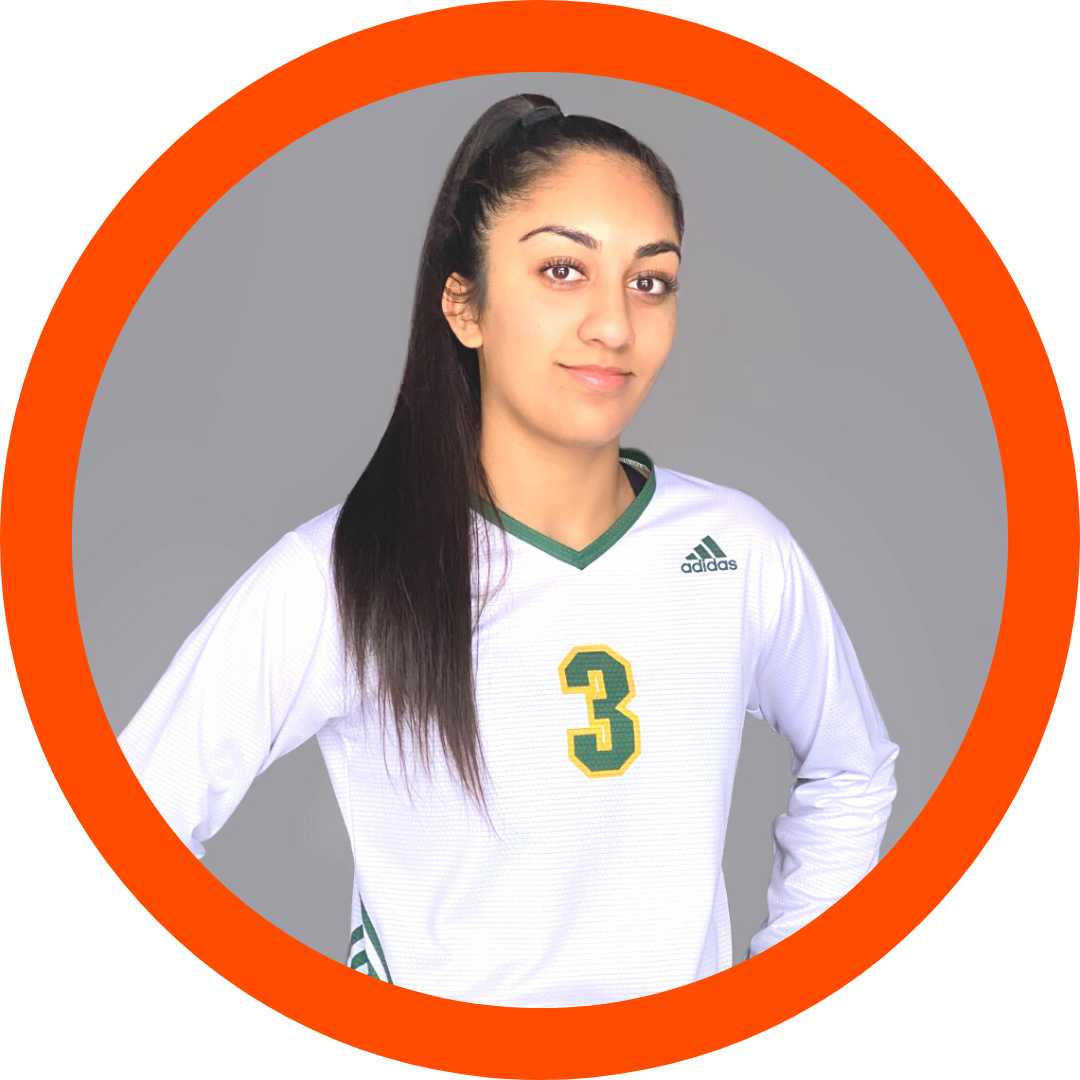 Height: 5'10"
Spike: 9'6″
Block: 9'1″
Reach: 7'5″
Wingspan: 6'0
Serve Velocity: 71 km/hour
DUE TO COVID – TOURNAMENT PLAY  POSTPONED FOR NOW
Five words you can use to describe yourself on the court.
Intelligent
Disciplined
Assertive
Explosive
Optimistic
Five words you can use to describe yourself off the court.
Conscientious
Motivated
Organized
Trustworthy
Considerate
Describe how you work in a team with your partners.
I work very well with a team and with my beach partners. I love being on a team because of the friendships that we form, and all of the experiences we get to share. I believe that each person plays a key role in the success of the team. I like to form strong relationships with my teammates and coaches so that we are able to develop a higher level of trust and communication. I am honest, open, and reliable, so that when in need of support, my teammates know they can lean on me. On and off the court, I usually take on a leadership role; however, I do so while being positive and motivating my teammates to be the best they can be. I lead by example, maintain an optimistic, positive attitude that encourages others, and consistently communicate well. Positive communication is essential in the game of volleyball, as coaches and teammates can exchange feedback and constructive criticism to influence the team's overall performance. I love receiving feedback from my coaches and teammates so that I can implement it into my way of play, and enhance my overall game. I also like to communicate plays and tactics with my teammates and beach partners to set ourselves up for success. After a practice or a game, regardless of the outcome, I like to take the time to reflect with my teammates and coaches by discussing what we did well, what we could improve on, and how we can be better in the future. I believe that expressing these thoughts and ideas helps our team reach their full potential, while forming deeper bonds with each other.
Athletic highlights and how you felt when you received them:
2020 Beach Volleyball Tournament 16U – 1st
2020 Beach Volleyball Tournament 18U – 2nd
2020 Team Alberta Volleyball 16U ID Camp Invitation (canceled due to Covid)
2020 Volleyball Alberta Indoor 15U Premier 1 – 1st
2020 Alberta Winter Games – 1st
2019 Volleyball Alberta Beach 14U Provincials – 2nd
2019 Volleyball Alberta Beach 14U Premier 4 – 1st
2019 Volleyball Alberta Beach 14U Premier 3 – 2nd
2019 Volleyball Alberta Beach 14U Premier 2 – 3rd
2019 Junior High MVP (x3 tournaments)
2019 Junior High City Premier Championship – 1st
2018 Junior High City Premier Championship – 1st
Each time I have had one of these athletic accomplishments, I felt very proud and honored to have had such an amazing team/partners, coaching, and the support of my family.
What are your interests outside of sports? Why do you like them?
Outside of sports, I love to spend time with my family and travel. I have three siblings and we are all very close in age. I share a room with my one sister, and although we are opposites we complement each other. I keep us organized and make sure we do our chores, while she is light-hearted and brings humor to every situation. I adore my younger brothers, help them with homework, teach them volleyball and basketball skills, and make sure I am a good example for them. As a family, we love to spend time together. During the pandemic, I realized how much they mean to me. We all have very busy schedules, as my mom and dad are physicians, and my siblings are in competitive sports as well. For these reasons, our vacations are precious. During winter break, we always travel to warm destinations with extended family. This is when time stands still and I appreciate every moment with my family, cousins, aunts and uncles, and most importantly, my grandparents who are my greatest cheerleaders. During spring break, we head to the Rocky Mountains to go skiing. During summer break, we go to BC and wake surf, spending hours on the water every day. I definitely enjoy traveling, but it is those valuable memories I create with my family that make me the happy person that I am.
Who are your role models and why?
One of my role models is Kathryn Plummer. She is a very hard working and talented player, and is calm, composed and focused on the court. I feel like we have similar styles of play – aggressive.  Plummer is one of the best outside hitters in the game as she can kill the ball from anywhere but is also a great teammate. I admire the way in which she plays and I strive to play at a very competitive university level and for a professional team like her. Another one of my role models is Megan McClure. I relate to her because although we may not be the biggest outsides in the game, we are hard workers who have a wide skill set that helps us score points. She hustles on defense, and is very smart in the front row using the block and her shots to her advantage. Finally, my dad and mom are my best role models. My Dad is an optometrist, and is a calm, calculating guy. He coaches my brothers who play high-level hockey, is a master in the kitchen, and is a barbeque guru. He is the person who introduced me to fitness and strength training. My Mom, also a physician, is ambitious and very dedicated to her career. She introduced me to volleyball and basketball, and coached me when I was little. My Dad and Mom are definitely my biggest supports and inspirations.
Involvement in other sports or extracurricular. Why is it important for you?
 I play a variety of sports at school and in my community. I play competitive basketball for school and club. I compete at track and field events with my school and I also ski, play tennis, and badminton recreationally. All of the sports I have played have helped shape me into the strong, driven athlete I am today. At my junior high, I also volunteered my lunch hours to tutor students in math and science. Approximately a year ago, I joined Goliath High Performance. This volleyball focused training program has helped me increase my overall strength and endurance, which has definitely positively affected how I perform on the court. I believe that my involvement in extracurricular activities has made me a more well-rounded person and helped me meet new people outside of my primary sport. I love to train most days of the week, set specific goals, and challenge my endurance and strength. I also have an interest in nutrition, which contributes to my progress and execution on the court as well as my power and strength in the gym.
Academic highlights and how you felt when you received them?
 I am a dedicated student-athlete and am invested in life-long learning on and off the court. I appreciate and thrive in an advanced education program (AP) offered at the High school I attend. In each of my years of schooling, I have earned the Honours with Distinction Award (an overall average of 90% or higher). I hold myself to a very high standard, so it feels great to know my hard work and determination is paying off.  Still, I know that I can always put in more work to improve both myself and my grades.
What program would you like to attend in school?
 I am interested in a variety of programs including life sciences, kinesiology, math, biomechanics, as well as sport and recreation. Since I am in my first year of high school, I am still open to other programs, and I am taking as many courses as I can to keep my options open. I excel in the sciences and mathematics, and have a keen interest in human anatomy and physiology.
How do you envision your school life in college/university?
 I envision my college/university life to be filled with some of the best experiences of my life. Volleyball would play a substantial role in making those memories. I picture myself with more independence and commitment than I have now, and envision myself working harder and more efficiently. I would like to attend a school where I can find a healthy balance between volleyball and academics. I am excited to someday be able to play the sport I love and study the subjects I am passionate about, while being an active, contributing member in my school's campus community and culture. I hope to make new friends and memories along the way, while staying close with my family and friends back in Alberta.
Grade 9
Ardrossan Volleyball Tournament – 1st
Jasper Place Volleyball Tournament – 1st
Titans Volleyball Tournament – 1st
Strathcona Highschool Volleyball Invitational Tournament – 1st
Edmonton Premier Volleyball Conference – 1st
Volleyball Alberta Beach Premier 3 – 1st
Volleyball Alberta Beach Provincials – 2nd
2020 Alberta Winter Games Volleyball – 1st
Volleyball Alberta Indoor Premier 1 – 1st
Lillian Osborne Basketball Tournament – 1st
Kelowna British Columbia Sweet Sixteen (Gr 10) Basketball Tournament – 2nd
Centurion Classic Basketball Tournament – 1st
Strathcona Basketball Invitational Tournament – 1st
Edmonton Premier Basketball Conference – 1st
Edmonton Youth Basketball League – 1st
Alberta Youth Basketball Provincials – 1st
Bump Set Spike Edmonton Beach Volleyball U18 Women's Tournament – 2nd
Bump Set Spike Edmonton Beach Volleyball Women's Tournament – Div 2, 1st
Bump Set Spike Edmonton Beach Volleyball U16 Women's Tournament – 1st
Strathcona Composite High School
Would like to pursue a degree in Life Sciences or Kinesiology with possible focus on Biomechanics or Physiotherapy
Class of 2023
Grade 10 Honours with Distinction

AP Science 10 – 96%
Social Science  10 – 97%
AP Math 10 – 100%
Sport Performance 100%
AP Biology – 95%
Physical Education – 100%
English Language – 95%
Leadership – 97%
Career & Life Management – 98%
Academic Awards:
Grade 10:
Honours with Distinction Quarter 1
Honours with Distinction Quarter 2
Honours with Distinction Quarter 3
Honours with Distinction Quarter 4
Grade 9:
Honours with Distinction Term 1
Honours with Distinction Term 2
Honours with Distinction Term 3
Class Historian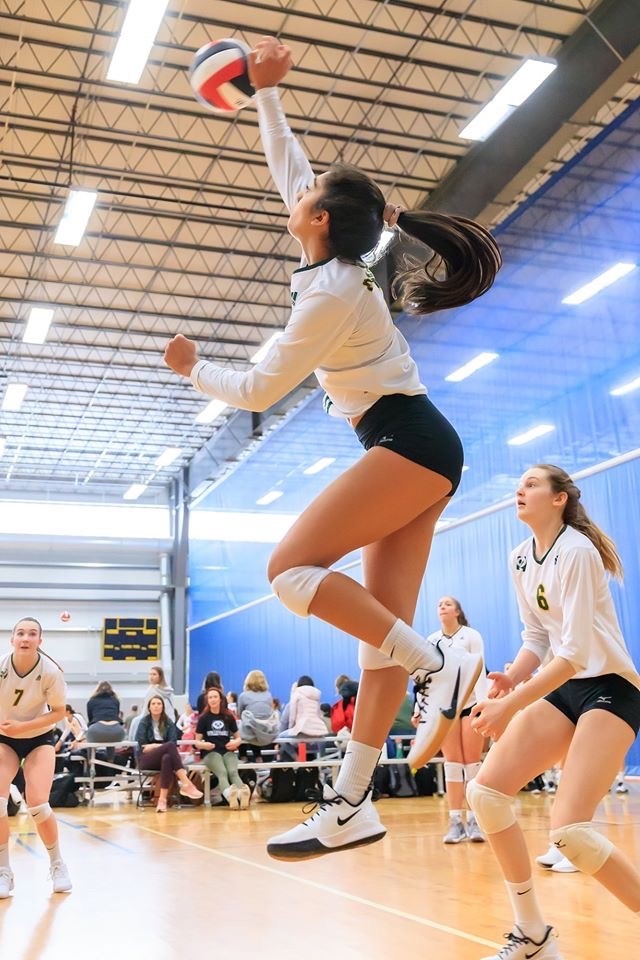 Outside Hitter / Opposite hitter
Clubs and Program Involvement
2021 Pandas Volleyball Club
Outside hitter
Opposite hitter
5 year member
2020 Pandas Volleyball Club
Indoor:
Lorne Sawula's Invitational Clinic (2021)
Aspire Volleyball Outside Hitter Invite Clinic (2019)
Lorne Sawula's Volleyball Lab (2019)
Pandas Outside Hitters Clinic (2019)
Aspire Volleyball 16U Invite Clinic (2020)
Beyond The Game Recruiting Showcase – Northern Alberta (2020)
Volleyball Alberta Premier and Provincial Tournaments (2020)
Beach:
2021 Aspire Beach Volleyball League
2021 Aspire Beach High Performance
Volleyball Alberta Premier and Provincial Tournaments (2019)
Aspire Beach Skills and Play (2019)
Aspire Beach Volleyball League U18 Male/Female (2020)
Alberta Volleyball Association
2021 Team Alberta Provinical Team
16U Indoor team
Outside hitter
Training camp and competition
2020 Team Alberta Identification Camp 
16U invitation
Cancelled due to Covid
HP Camp Red Deer, AB
2020 Alberta Winter Games
Zone 6 (Edmonton)
Gold Medal Winners
Most Valuable Tournament Awards
Ardrossan Volleyball Tournament MVP
Titans Volleyball Tournament MVP
Strathcona Invitational MVP
Multi Sport athlete and participation: 
Volleyball
Basketball
Skiing
Swim Club
Track and field

Triple Jump
High Jump
4×100 relay
NOVEMBER 2020 
ALBERTA VOLLEYBALL ASSOCIATION
Will understand each and every athlete to ensure your recruiting experience is enjoyable and relaxing.
Regular online group meetings offering support with updates about your recruiting profile.
Will provide full email support during the recruiting process.
Professional athletic resume to be provided.
Will pre-screen in order to work with Canadian,  United States and overseas coaches.