Peyton M.
Middle Blocker / Right Side
Class of 2023
NCAA # XXX-XXX-6622
Six Pack indoor volleyball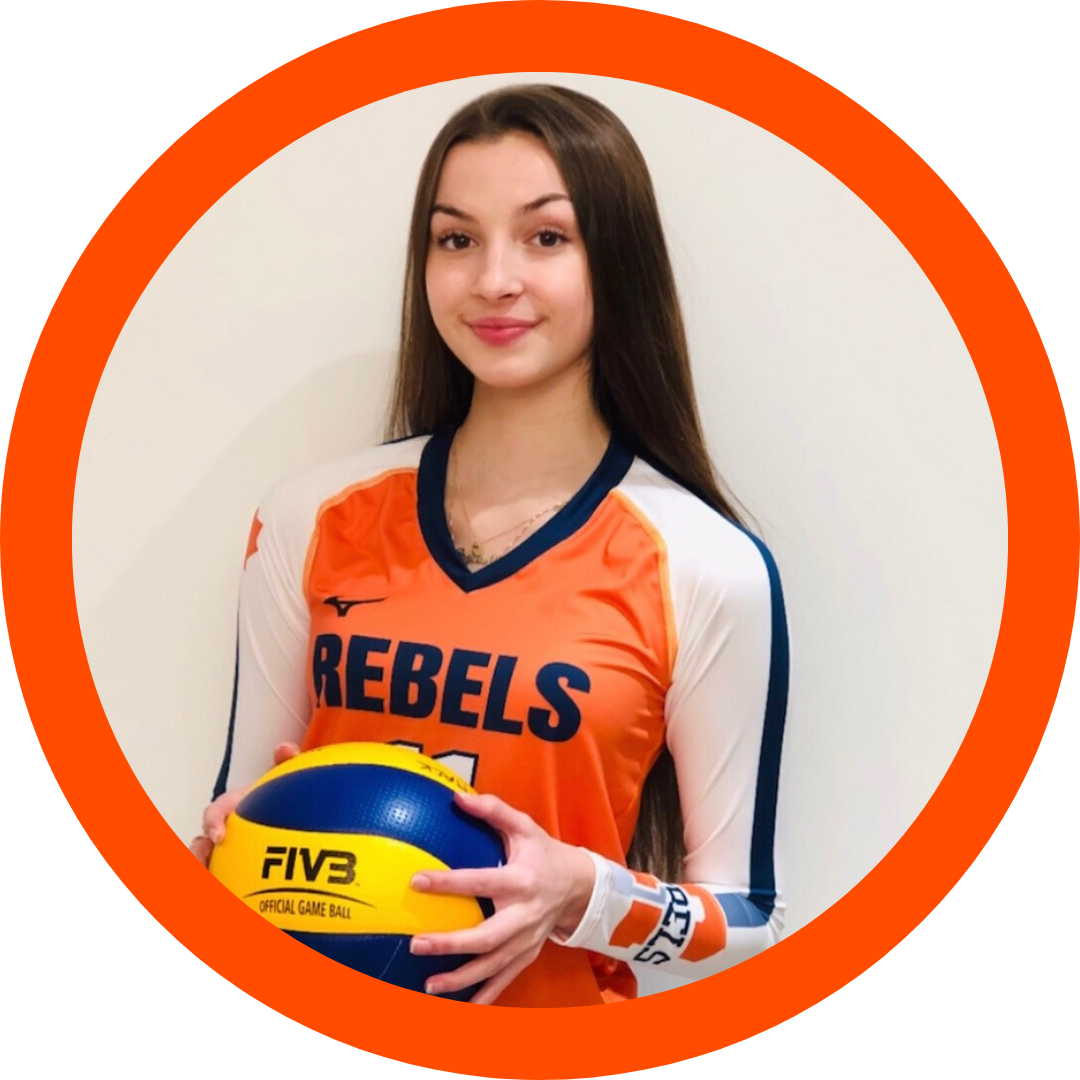 Height: 5'10"
Spike: tbd
Reach: tbd
DUE TO COVID – TOURNAMENT PLAY  POSTPONED FOR NOW
Five words you can use to describe yourself on the court.
Determined
Focused
Tenacious
Confident
Passionate
Five words you can use to describe yourself off the court.
Disciplined
Strong-willed
Outgoing
Committed
Motivated
DUE TO COVID – ALL COMPETITIONS ARE POSTPONED FOR NOW
As a former Competitive Gymnast and Competitive Dancer, I came to Volleyball relatively 'late' and began my volleyball career in 14U. I simply loved the game and fortunately was provided the opportunity to play competitively! As I am accustomed to 20+ hours a week training, given my previous dance experience, I also trained privately in order to develop my technical volleyball skills and ensure a strong contribution to my team. This commitment and dedication paid off as I was encouraged by a number of coaches to attend their Club tryouts the following year. This hard work and dedication to further my athletic development allowed me to land on a top competitive team and in the starting lineup in 15U.
My development as a player was further reinforced with a commitment to ASAD (Athletic Student Athlete Development program overseen by the Ontario Volleyball Association) where I trained ½ days 5 days a week with both on court technical training and strength training to further support both my development as an athlete and therefore my contribution to my team. In this program, I learned to love Strength Training and Conditioning and cannot wait for time in the gym and weight training! I always feel so energized after a session!
Given my height, I was a natural choice for a 'middle'. However, I am also known for my hard hitting. As a result, I am expanding my skill on the court and also being developed as a 'right side' hitter in 16U. I was taught early that ball control is king and if you can control the ball, you can control the game. My defensive game is strong as a result. My coaches recognize that I am a well-rounded player who can be relied upon to come thru for her teammates. I can hit, pass, block and serve but my strength is the ability to read the court, identify weak spots and make quick decisions about where to place the ball. As a server, I can place the ball anywhere on the court and have the ability to 'mix-it up', serving both short and deep, float and spin and have been known to go on long serving runs as a result – having been on serving runs of 12+ serves on more than one occasion. However, my favourite part of the game is offensive play and nothing is more satisfying than a hard hit and fast moving smash that you know the other team cannot touch! It is so gratifying!
Given current restrictions, I am continuing to strength training daily and working hard to improve both my strength and fitness in preparation for the return of play.
Middle Blocker / Right Side
2020 Durham Rebels Volleyball Club
2019 Durham Attack Volleyball Club
Multi Sport athlete and participation: 
Volleyball
Weight Training
Beach Volleyball
Former Competitive Dancer
Former Competitive Gymnast
Donald A. Wilson Secondary School
Class of 2023
Honour Roll; 99/25% pr 4.0 / 4.0 GPA
Voted 'Most likely to Succeed' by her peers
Academy for Athlete Student Development (ASAD)

Strength and Conditioning Award
Would like to pursue a career in Investment Banking or Law
Leadership & Volunteer
·ASAD – Strength & Conditioning Award (I love to train!) 2020
·National Lifeguard Certification via NLS Society
·Canadian Paralympic Committee Volunteer
Instagram: @volleyballpeyton11
Ontario Volleyball Association 
Winter 2020 
Peyton is a natural leader on and off the court.
Her positive attitude is infectious and her most dominant trait is her ability to read and react when blocking. Peyton has an aggressive jump float serve which lead us to many victories. She is a dominant blocker and an offensive threat. She is optimistic and ready to take newly learned skills from practice and transition them into her game play.
I am looking forward to watching Peyton succeed at the next level.
Peyton is a very committed athlete who always gives 100% on and off the court.She has taken her athleticism and strength from other sports and in only a few years has become a premier level player. She has a high intellect for the game and combined with her work ethic, Peyton will become one of the best right side/middles in the province. She has a love and passion for the game that I have only seen in players at a very high level. Due to her focus, drive and above mentioned qualities, she is a pleasure to coach. I have no doubt she will play volleyball at a university level and beyond. 
Will understand each and every athlete to ensure your recruiting experience is enjoyable and relaxing.
Regular online group meetings offering support with updates about your recruiting profile.
Will provide full email support during the recruiting process.
Professional athletic resume to be provided.
Will pre-screen in order to work with Canadian,  United States and overseas coaches.