Sophia V.
Outside Hitter
Canadian Sports School 2021
Class of 2023
Six Pack Indoor Volleyball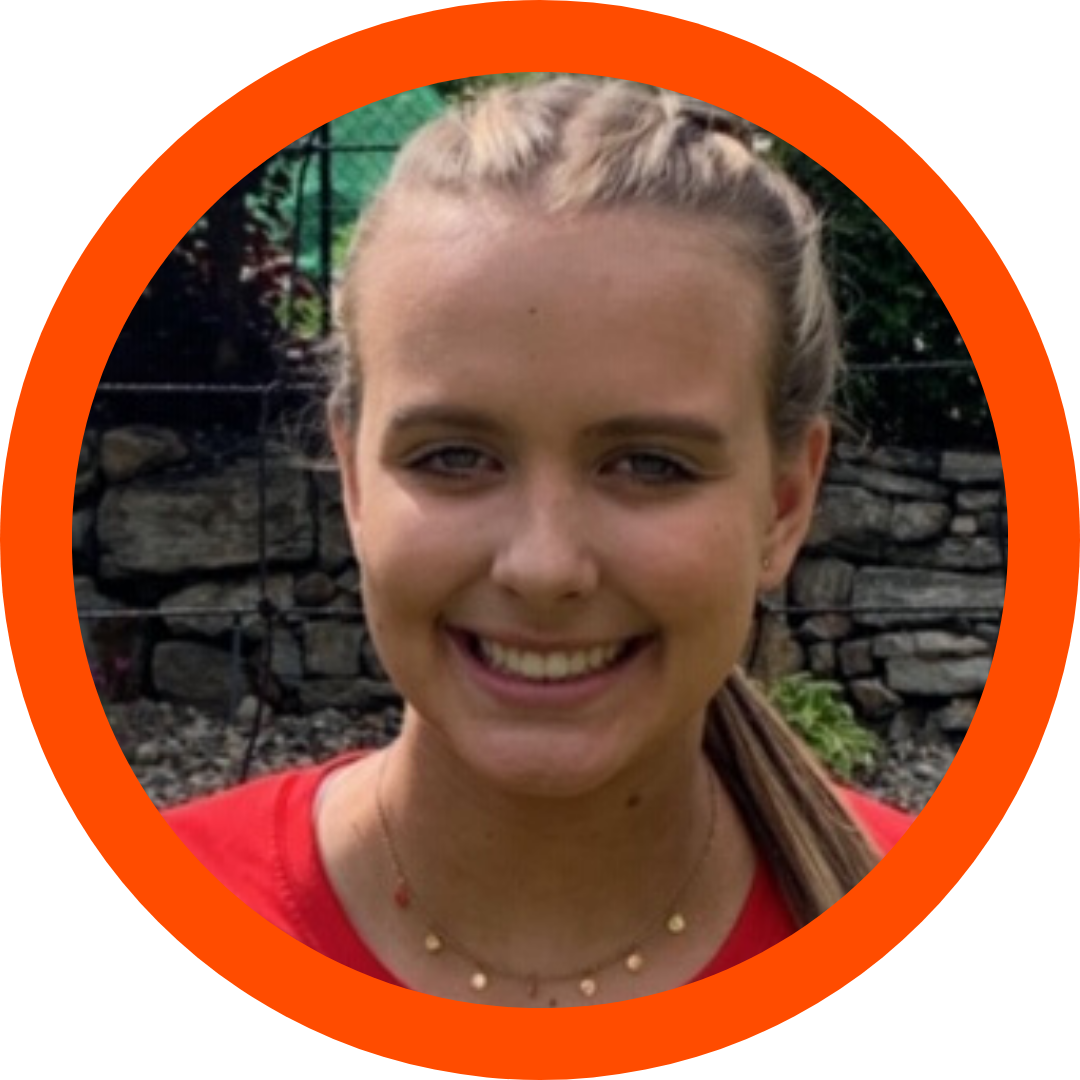 1. Five words you can use to describe yourself on the court.
The five words I can use to describe myself on the court are hardworking, passionate, leader, brave and sportsmanlike. I am hardworking, I never give up and always strive to compete to my potential and best till the end of the game. I am passionate, I play with fire, competitiveness and passion in my heart during the game. I am a leader, I always lead the team by being supportive, helpful and demanding in a good way. I can also speak for myself and what I believe and wish to happen. I am always brave, I go out on the court confident and fearless, I believe in myself, and what I can do for the team. I am sportsmanlike, I am always fair, respectful and kind. No matter what happens during the game, I am always gracious and I walk away with respect for my teammates and opponents.
2. Five words you can use to describe yourself off the court.
The five words I can use to describe myself off the court are, supportive, kind, determined, loyal/ trustworthy and funny. Supportive because I always support, and accept people and their dreams, wishes and beliefs. I am there for them with whatever they need, and I am willing to go out of my way to help. I am a positive person overall. Kind because I am nice and respectful to my peers, teammates, coaches etc. I am always willing to accept feedback to make change and learn. Determined because I am willing to accomplish and finish tasks, and assignments needing to get done, to the best of my ability. Loyal and Trustworthy as I am always there if my friends or anyone needs help, guidance or someone to talk to. Funny because I always like to bring everyone up. I like to make people laugh and have a good time.
3. Describe how you work in a team with your partners.
I work really well in a team. I am open to their opinions, feedback and ideas. I love the positive team environment, and I am someone who loves to work in group settings because I feel it helps me succeed. I have good communication skills, so I am able to clearly express myself and how I feel. I am comfortable talking to my teammates to come up with solutions during games. My team is very important to me and we have a sacred bond that helps us connect to
each other.
4. Athletic highlights and how you felt when you received them.
My athletic highlights are Beach Provincials (u14) 2nd in Div 1, Tier 1, 2nd at Nationals 2019 (u14) Div 1, Tier 1, won Player of the Wave (MVP) at Nationals for
my team, was accepted and played for Team BC U15 last year (2019) and was recently accepted to The Canadian Sports School starting in September 2020. I felt very honoured, special and proud to receive these awards and accomplishments. It shows that hard work and dedication really do pay off. I was so happy, excited and overwhelmed with joy. I was also very proud of the way I handled the high pressure in those situations, and how I dealt with it.
5. Involvement in other sports or extra curricular. Why is it important for you?
Involvement in other sports are important to me because it helps me become a better overall athlete. I love to do many sports for fun (Soccer, Swimming, Basketball and Track).
6. What are your interests outside of sports? Why do you like them?
I love to cook and bake because it is all about experimenting with different materials and objects. I love to workout and stay fit as it makes me feel healthy and happy. I love hanging out with friends, spending time with family and going on hikes and walks with my dogs. I love all these things because they boost my mood, and they all contribute to having good mental heath and making me feel
better. I am a very social person, so most of my interests out of sports are spending time with people I care about, doing different activities.
7. Who are your role models and why?
My parents, coaches and family members are my role models because they support my dreams and they teach me new things. They are the ones cheering for me in life and on the sidelines. They have taught me the power of hard work, and how it pays off. They explained to me that by being dedicated, caring, strong and committed you will be the player, athlete and friend you want to be. They also told me to never give up, and to believe in yourself.
8. Academic highlights and how you felt when you received them.
My Academic Highlights are Straight A's (4.0) and Work Ethic Awards. When I received these awards and grades, I felt very happy and excited because I worked hard to receive those accomplishments.
9. What program would you like to attend in school?
I want to get my Bachelor of Science and go into Paediatric Rehabilitation. That really interests me as I would like to work with children and help those facing difficulties.
10. How do you envision your school life in college/university?
I envision that my school life in college/ university will be very successful and enjoyable but with hard work. I am excited to further my studies and play volleyball whether it is indoor or beach. I am excited to meet new people, make new friends and experience life on campus.
2021 Volleyball Schedule:
Details coming soon
Selected for THE CANADIAN SPORTS SCHOOL 2021
2021 The Jr. Heat Volleyball Club
2021 16U
High Performance training club
2019/ 2020  T2 Volleyball Club
2019 Team Leader
2019 Team MVP National Championships
2019 Canadian Nationals Silver medal
Team British Columbia 
2021 U16 
high performance training camp and tournament
2019 Team BC U15 Zone 2 
2018 Team BC U16 Zone 2
2019 British Columbia Beach Provincials 
Kelowna Secondary School
Honour Roll Student
4.0 GPA
Senior AAAA Volleyball Team
Dr. Knox Middle School sports and participation: 
Volleyball

Provincial Silver Medalist 2019

Track and Field

Sprints
Relay team
Triple Jump
Long Jump

Soccer
Class of 2023 – Honour Roll student
Principa Roll 4.0
Work Ethic award recognition
Best of the West Champions 2021 
#10 Outside hitter
Practice footage
March 2021
Traing sessions UBCO
Fall 2020
Will understand each and every athlete to ensure your recruiting experience is enjoyable and relaxing.
Regular online group meetings offering support with updates about your recruiting profile.
Will provide full email support during the recruiting process.
Professional athletic resume to be provided.
Will pre-screen in order to work with Canadian,  United States and overseas coaches.