Thea Spasic
Defender
Class of 2023
Six Pack beach volleyball
Discipline for Recruitment: Beach
Height: 5'8″
Legacy beach volleyball (2017-present)

Regionals 2019 summer (beach and indoor)

Junior girls volleyball (2019-2020 winter ) (City champions and Sossa champions)
Water polo (2020 spring) (season ended due to covid)
Coed volleyball (2020 spring) (season ended due to covid)
Senior girls volleyball (2021-2022 winter) (City champions) (Sossa and Ofsaa canceled)

Ancaster High School
Class of 2023
Honours student

BVNE champion in Leamington (September 2021)
Beach 2nd place at provincials (14u)
Indoor Provincial Champion (13u)

Volley Girls (2021 summer) (coached)
Occasional Pratices for 12u-14u Defensa (2020) (coached)
Smash house league (2018-2019 every Sunday) (coached)

Defensa Purple (2019-present) (Left side/Libero)
Smash High Performance (2016-2019) (Right side)
Five words you can use to describe yourself on the court.
Energetic
Focused
Positive
Hardworking
Competitive
Five words you can use to describe yourself off the court.
Outgoing
Loyal
Happy
Funny
Caring
Describe how you work in a team with your partners.
I am very outgoing and happy overall throughout a game. I am positive towards my teammates/partner and always excited to see them succeed. If we are not as successful during a game I am still positive and encourage my teammates/partner to work hard with me and encourage them to stay positive. I am focused in game settings but also happy so I can stay in a positive mood to lift my team/partners energy up.
Athletic highlights and how you felt when you received them:
BVNE champion in Leamington (September 2021)
Beach 2nd place at provincials (14u)
Indoor Provincial Champion (13u)
I was super excited to play in all of these games and I felt that I deserved it. I worked hard with my partner/team to accomplish where I finished in these tournaments.
What are your interests outside of sports? Why do you like them?
I love to spend time with my family and friends. I also love going to school because I get to meet new people and see all my friends.
Who are your role models and why?
When I started legacy beach in 12u one of our coaches was named Kayla Gallant. She was a smaller defender and a lefty. From the day that I met her I wanted to be just like her. She never let a ball drop and she worked so hard in every game and practice. She went off to University of Louisiana Monroe and still comes back every summer to coach. Kayla is my role model and that is why.
Involvement in other sports or extracurricular. Why is it important for you?
– Lacrosse
– Soccer
– Water polo
– Track and field
– Volleyball
– Beach volleyball
Academic highlights and how you felt when you received them?
Citizenship award (grade 8) – Proud
Honour Roll (grade 8) – Happy
Honour Roll (grade 9 and 10) – Excited, Happy
What program would you like to attend in school?
How do you envision your school life in college/university?
I envision my life as a hard working student athlete. I have accepted and understood that it is going to be difficult and I am prepared to work hard to do well in all my classes and be a successful beach volleyball player. I envision myself playing volleyball everyday, working out and going to my classes. I can't wait to meet so many new people and make more friends. This seems like the perfect college/university life to me.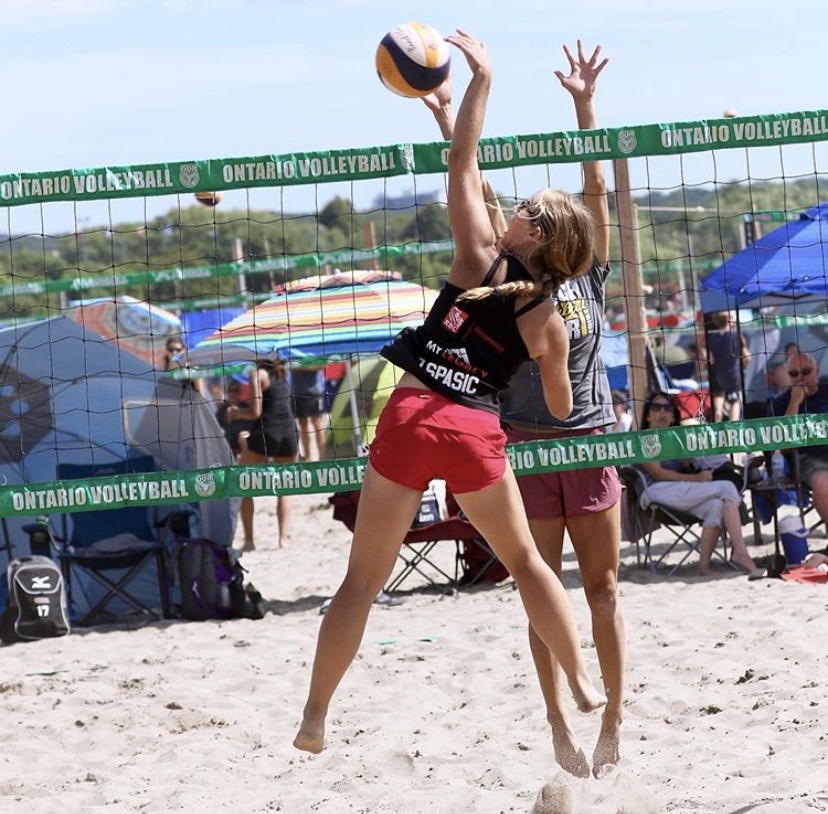 Will understand each and every athlete to ensure your recruiting experience is enjoyable and relaxing.
Regular online group meetings offering support with updates about your recruiting profile.
Will provide full email support during the recruiting process.
Professional athletic resume to be provided.
Will pre-screen in order to work with Canadian,  United States and overseas coaches.