Niki Nazary
Outside Hitter
Class of 2024
2023 Team Ontario Black
Six Pack indoor volleyball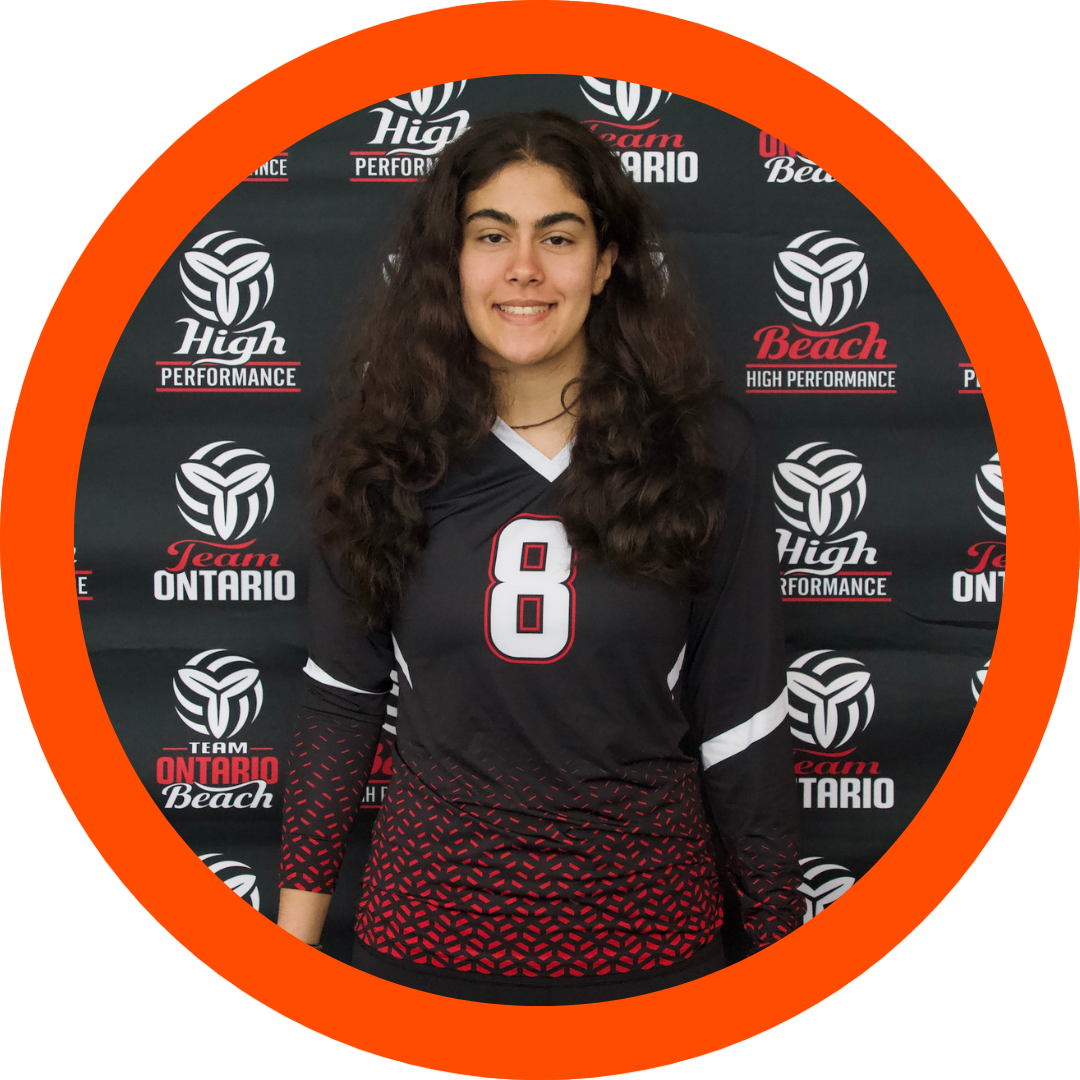 Discipline for Recruitment: Women's Indoor Volleyball
Height: 6'0″
Spike Touch: 9'6″
Block Touch: 9'4″
Titans Rogue, OH (2021-2023)
Venom Vipers, OH (2018-2020)

Team Ontario Black, OH (2022,2023)

Girls Varsity Volleyball (2023-2021)
Quarter finals of OFSAA

Richmond Hill High School
Class of 2024
Average of 93% while taking an accelerated pathway in science
Honour Roll (2023-2020)
Pursuing a Bachelor's in Science.

OVA Award of Excellence (2022)

Peer Tutor (2023-2021)
▪ Support students in their understanding of math and science coursework.
Titans Volleyball Volunteer Day Camp Coach Summer, 2021
▪ Supervise and instruct children to engage in camp activities and varied
protocols.
Five words you can use to describe yourself as a high performance athlete.
Determined
Focused
Passionate
Competitor
Supportive
Five words you can use to describe yourself off your field of play.
Describe how you work in a team.
My role as a team member is to be adaptable while retaining my core values as a player. In teams I am a part of, I strive to demonstrate my effort and dedication through my actions; I reserve all my effort towards the task at hand to not only improve individually, but collectively. I search for dynamic roles through which I am able to help my team best, and lead by example.
Athletic highlights and how you felt when you received them:
I take pride in the fact that I have been able to manage a high performance schedule while also feeding my academic development. Throughout my academic career, I have consistently attained Honour Roll and felt accomplished in my learning. Both volleyball and academics are considerable commitments that have helped define me, and excelling at both makes the other infinitely more enjoyable.
What are your interests outside of sports? Why do you like them?
Who are your role models and why?
Involvement in other sports or extracurricular. Why is it important for you?
Academic highlights and how you felt when you received them?
What program would you like to attend in school?
How do you envision your school life in college/university?
Will understand each and every athlete to ensure your recruiting experience is enjoyable and relaxing.
Regular online group meetings offering support with updates about your recruiting profile.
Will provide full email support during the recruiting process.
Professional athletic resume to be provided.
Will pre-screen in order to work with Canadian,  United States and overseas coaches.