Vanessa Bennett
Outside Hitter
Class of 2025
2023 Team Newfoundland
Six Pack Indoor Volleyball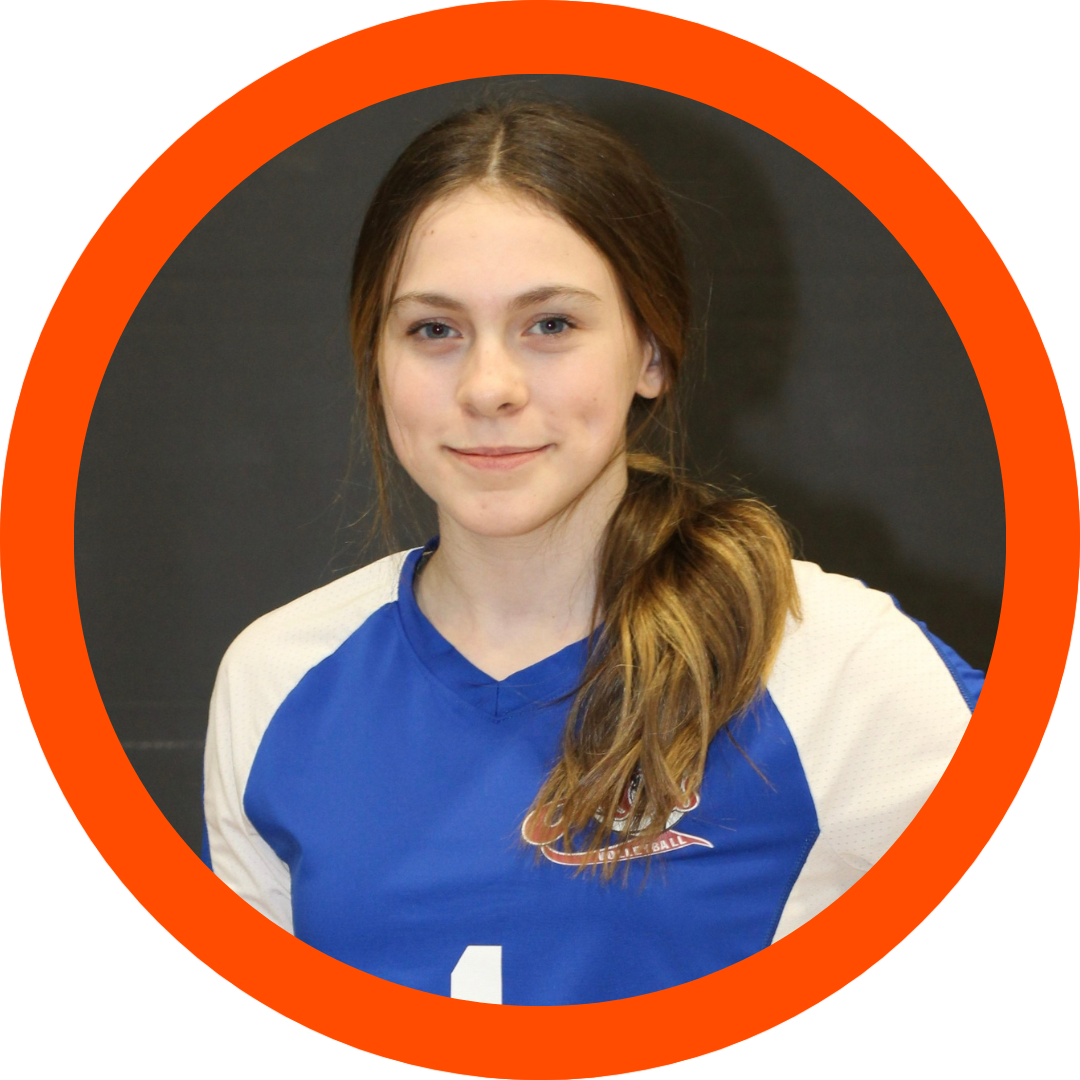 Discipline for Recruitment: Women's Indoor Volleyball
Height: 5′ 8″
Spike Touch: 9′ 1″
Block Touch: 8′ 9″
Standing Reach: 7′ 2″
Wingspan: 5′ 8″
Other Physical Testing:
Attack/serve velocity: 61 km/h
School Sport NL 4A Championships (December 1-2, 2023)
NLVA 18U Provincial Championships (March 1-2, 2024)
2022-2023
Aces 16U Volleyball Club – Outsider Hitter
- NLVA 16U Provincial Championships - Gold
Huskies 16U Volleyball Club – Outside Hitter
- NLVA Club Championships – Gold
- Joined Team for Club Championships and Nationals

2021-2022
Aces 15U Volleyball Club – Outside Hitter
- National Championship D2T2 – Silver
- 'Best Finish for NL Female Team at Nationals'
- NLVA 15U Provincial Championship Tier 1 – Silver
- NLVA 15U Regional Championship Tier 1 - Gold
- NLVA 17U Provincial Championship Tier 2 – Gold
- VolleyFest Championship Tier 1 - Silver
- VolleyWest Championship Tier 1 - Gold

2023
Team NL 16U Canada Cup Team
Team NL High Performance Training Pool for Canada Games
PowerCore360 Volleyball Power Hitting Masterclass
Volleyball Positional Camp, Ottawa, Ontario

2022
Team NL 15U Provincial Team
- Team NL Cup - Gold

2021
Team NL 14U Provincial Team

2023-2024
Corner Brook Regional High 4A Titans Volleyball, Outside Hitter
- VolleyFest Championships Tier 1 - Semi-Finalist
- VolleyWest Championships Tier 1 - Gold

2022-2023
Corner Brook Regional High 18U Titans Volleyball, Outside Hitter
- 18U Provincial Championships Tier 2 - Silver
- VolleyFest Championships Tier 1 - Semi-Finalist
- VolleyWest Championships Tier 1 - Silver

Corner Brook Regional High
Graduating Class of 2025
95% Average
Program of Interest: Health Sciences/Optometry

2023 NLVA 18U Provincial Championships - Tournament All-Star Award

Assistant Coaching duties with Junior Warriors 15U Club Team (2023-2024)
Volleyball Referee for Junior High Tournaments including 15U Provincials (2022-present)
Volleyball Referee for Women's Open Volleyball League (2022-present)

2022
Junior High Year-End Tournament - Gold
Five words you can use to describe yourself as a high performance athlete.
Determined
Confident
High Energy
Competitive
Hard-working
Five words you can use to describe yourself off your field of play.
Positive
Independent
Motivated
Communicative
Cheery
Describe how you work in a team.
I am very supportive and positive when working with my team. I always support my teammates in any way possible, whether cheering on their successes or encouraging them after a rough play. I believe in the "WE" before "ME" mentality and will play whatever role my coach feels is best for the team. I always show positive energy on and off the court to create a positive environment for my teammates. I welcome any opportunity to train and play with new coaches, teammates and different teams.
Athletic highlights and how you felt when you received them:
– All-star award (18U provincials), March, 2023
– Selected for 16u Team NL Canada Cup Team, May, 2023
– Player of the game championship game (Volley West), October, 2023
I feel very proud any time I receive an athletic award, any time my hard work and skill is recognized, but I am very humble too because none of these awards would be possible without my teammates. When I received player of the game for our championship match at volleywest, that was extra special for me because that award was chosen by my teammates. It shows they feel I am an asset to the team.
What are your interests outside of sports? Why do you like them?
I used to figure skate competitively until 2020. I still love to skate and follow our national figure skaters. Some of my other interests outside of sports include spending time with friends and family, baking, water skiing/tubing/kneeboarding and down-hill skiing. I love spending time with my friends and family. I am very fortunate to have a tight-knit family with a great friend group. I love the sense of belonging I feel when spending time with my friends and family. I also love the outdoors living that comes with living outside the City on a lake. I love spending time outdoors at the lake, whether that be hiking, water skiing, kayaking, walking the beach, paddle boarding, snowshoeing.
Who are your role models and why?
My parents, coaches and my teammates are my role models because they encourage me to do my best all the time. They continuously help me and support me through my volleyball career and want what's best for me at all times. This creates a very positive energy for me which pushes me to work even harder on and off the court.
Involvement in other sports or extracurricular. Why is it important for you?
– Gym: I love being in the gym, having a hard workout and feeling myself getting stronger. I strongly believe strength training is essential for all athletes to make them stronger, better at their sport and it is so important for injury prevention.
– Volunteer volleyball coach: I love working with younger kids and being able to share my knowledge and passion for the game of volleyball with them. My coaches have spent countless hours volunteering their time to coach me so I feel it is important to pay it forward and give back by volunteering my time as well.
Academic highlights and how you felt when you received them?
– Maintaining an average of 95 or above for Grade 9 and Grade 10
– Having a 100 average in academic math and 95 in level 2 advanced math. Math is one of my favourite courses and I enjoy doing well in my math courses.
– My current average for Grade 11, Term 1 is: 96%
Doing well in school is really my highest priority at this time of my life. I know university is competitive and it is very important to me to do well so that I can improve my chances of being accepted into whatever faculty and university I choose.
What program would you like to attend in school?
I would like to pursue an undergraduate degree in health science. I believe this program would be very interesting and challenging and would help me secure a spot in the highly competitive schools of optometry.
How do you envision your school life in college/university?
I envision my university life to be among the best years of my life, enjoying amazing experiences, meeting new lifelong friends and being very successful in my academics and volleyball. I expect to be very busy pursuing a health science degree and continue hard training for volleyball but I am excited for that challenge and my time management skills will certainly be an asset. I look forward to playing with a new team, at a higher level of ball, and becoming a part of a tight-knit group of women who I am sure will be tomorrow's leaders and remain my friends for life.
Will understand each and every athlete to ensure your recruiting experience is enjoyable and relaxing.
Regular online group meetings offering support with updates about your recruiting profile.
Will provide full email support during the recruiting process.
Professional athletic resume to be provided.
Will pre-screen in order to work with Canadian,  United States and overseas coaches.