Alexandria Leonetti
Left-Handed Setter
Class of 2024
Six Pack indoor volleyball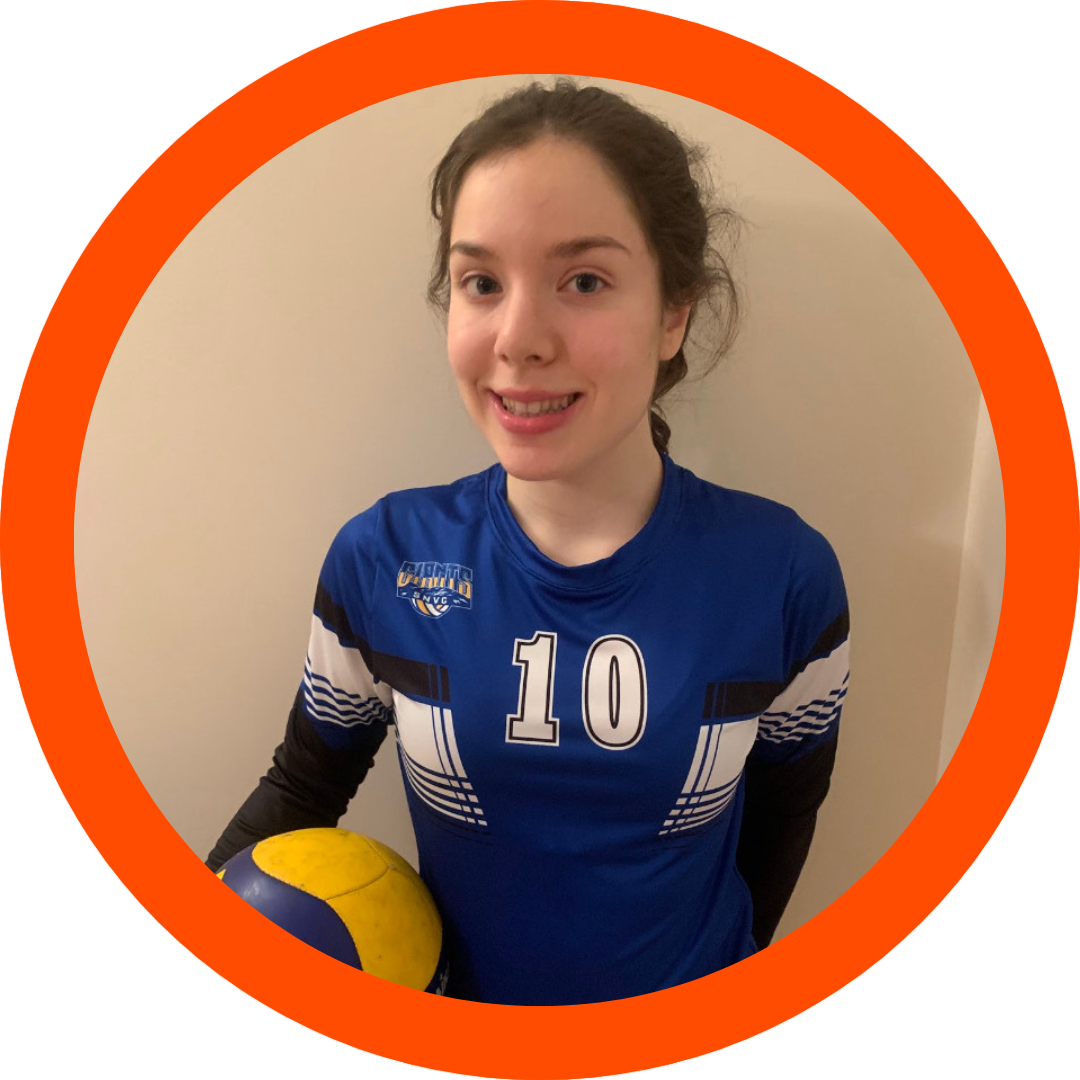 Discipline for Recruitment: Women's Indoor Volleyball
Height: 5'4″
Spike Touch: 8'10"
Block Touch: 8'3″
Standing Reach: 6'10"
Wingspan: 5'2″
Left-handed setter
Superior North Giants 17U 2022-2023 Setter
Nationals May 2023 3rd in our tier
Ontario Championships April 2023 won gold in division 3 tier 2
Minnesota North Showcase March 2023, won 1st place in the silver division
Minnesota North Spring Classic March 2023

Superior North Volleyball Club 16U White, setter, 2021-2022
Ontario Championships 2022

Superior West Volleyball Club 15U, setter, 2019-2020
President's Day Tournament 2020
#1 best accuracy on team

Waterloo Warriors High Performance Camp 2022
Waterloo Warriors Setters camp 2022
Fort Frances Day Camp by Amy Wilson Hands 2022
Waterloo Warriors High Performance Camp 2019

St. Ignatius High School Senior Team, setter, Senior Girls MVP 2022-2023 season

St. Ignatius High School Junior Team, setter, Co. Team Captain and Junior Girls Volleyball MVP 2021-2022 season

St. Ignatius High School, Thunder Bay
Class of 2024
Professional goal is a Certified Public Accountant (CPA)
Grade 10 Honour Roll
Grade 9 Honour Roll 2021 for a 92% average

1st place in the Senior Girls Volleyball Tournament at Dryden High School 2022
St. Ignatius High School Volleyball Junior Girls MVP of the Year 2022
St. Ignatius High School Volleyball MVP of the championship match 2022
St. Ignatius High School Volleyball placed 2nd overall 2022
Second degree black belt in Tae-Kwon-Do
Canadian-American Tae-Kwon-Do Games in Winnipeg bronze metal in Patterns
Lakehead Public Schools City Track and Field 1st in high jump
Woodcrest School Track and Field 1st high jump
Woodcrest School Track and Field 1st football toss

Kidventures Summer Program , July 2021 - Time with children age 4-12, helped them with their arts and crafts and made games and activities for them
Regional Food Bank, 2019 - preparing food packages
Five words you can use to describe yourself on the court.
Positive
Hard-working
Intelligent
Motivated
Disciplined
Five words you can use to describe yourself off the court.
Independent
Hard-working
Energized
Organized
Trustworthy
Describe how you work in a team with your partners.
When working in a team with my partners I always gear down and focus on whatever we're doing. I always put 100% effort into all my work.
Athletic highlights and how you felt when you received them:
St. Ignatius High School MVP of the championship match
– I felt amazing knowing my coaches noticed my hard-work and determination and that I was part of a team that did very well.
What are your interests outside of sports? Why do you like them?
Going to the gym: I enjoy developing myself physically and working towards health goals
Who are your role models and why?
My parents are my role models because they have helped me develop into a very independent, self-motivated young woman that has dreams and ideas that I am exploring.
Involvement in other sports or extracurricular. Why is it important for you?
Indoor rock-climbing: I enjoy the thrill of climbing and seeing what I can accomplish. It is important to me because it helps me develop my reactive thinking for setting because as I'm climbing I need to make quick and important decisions.
Academic highlights and how you felt when you received them?
Grade 9 Honour Roll 2021 for a 92% average: I felt very proud of myself my hard work paid off.
What program would you like to attend in school?
I would like to pursue a degree in Accounting/Finance.
How do you envision your school life in college/university?
I envision my school life to be a very good experience because I'm going to go into a program I'm interested in and enjoy. I know I will have time for extracurricular activities.
Will understand each and every athlete to ensure your recruiting experience is enjoyable and relaxing.
Regular online group meetings offering support with updates about your recruiting profile.
Will provide full email support during the recruiting process.
Professional athletic resume to be provided.
Will pre-screen in order to work with Canadian,  United States and overseas coaches.