Brooklyn Grobb-Prins
Outside Hitter
Class of 2025
2022 U19 Youth Team Canada
2023 Biosteel All-Canadian
Six Pack indoor volleyball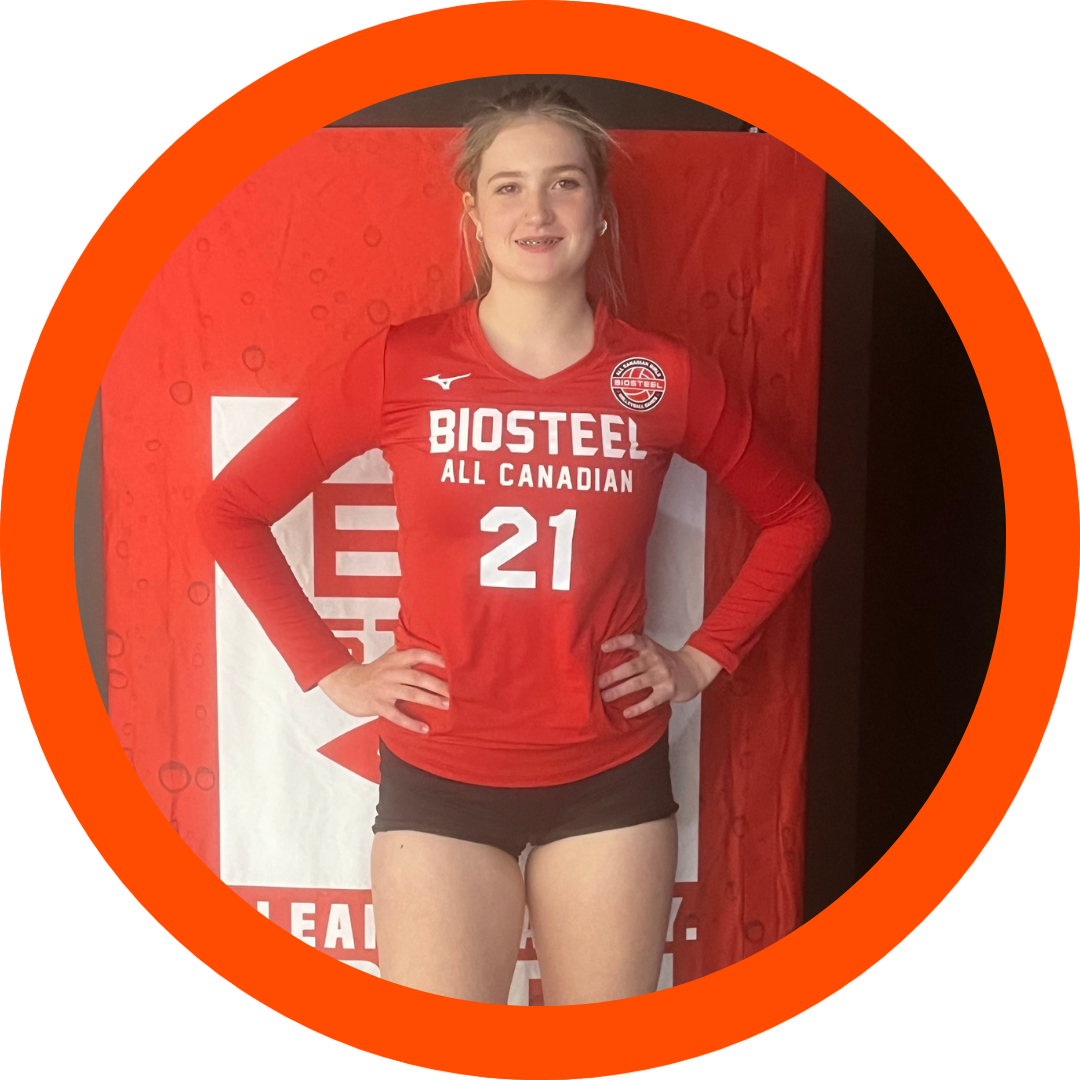 Discipline for Recruitment: Women's Indoor Volleyball
Height: 6'3″
Spike Touch: 10'1″
Block Touch: 9'3″
Standing Reach: 8'1″
Junior Bisons Gold 16U - Outside Hitter 2022-23
Junior Bisons Gold 15U - Opposite 2021-22
Best of the West All Star
Provincial All Star
2020-21 Royals 13U

NEP 2023
U19 Youth National Team 2022
Biosteel All Canadian June 2023 Outside hitter

Selkirk Royals
Varsity teams Outside hitter

Lord Selkirk Regional Comprehensive Secondary School
class of 2025
Academic average 90%

Biosteel All Canadian 16U champions
2023 Provincial Champions -Manitoba Jr. Bisons 16U
2023 Premier Volleyball Manitoba 16U Champions
2023 Best of the West - Second place 16U
2022 Provincial Champions -Manitoba Jr. Bisons 15U
2022 Best of the West Second Place *Tournament All Star

2022/2023 School year Grade 8 Girls volleyball assistant coach
2022/23 School YearGrade 7 Badminton Coach

This year my beach club team came in third place.
Five words you can use to describe yourself as a high performance athlete.
Competitive
Goal driven
Skilled
Focused
Leader
Five words you can use to describe yourself off your field of play.
Fun-spirited
Organized
Positive
Hard working
Funny
Describe how you work in a team.
In a team setting I am the player who is bringing up the spirit of the team, encouraging my teammates and pushing them to compete at the highest possible level to improve. I am extremely coachable and maximize my practice time to improve my skills.
Athletic highlights and how you felt when you received them:
Getting invited to practice with a BIG 10 Team for two practices was one the greatest highlights for me. Being in Grade 10 and being on the court with girls who are 5-6 years older than me was such an accomplishment and definitely a goal of mine that I could check off.
What are your interests outside of sports? Why do you like them?
I spend a lot of time at the lake where I enjoy water sports. Being at the lake allows me to enjoy sports other than volleyball so that I am not doing the same thing all the time. It gives me some balance.
Who are your role models and why?
A true Canadian role model to me is Terry Fox. He was a man who set his goals high to run across Canada even when others thought he could not do it. He was determined and goal driven and I feel I have many of his qualities. Terry Fox continues to make a difference in the world today through his fundraising efforts for cancer.
Involvement in other sports or extracurricular. Why is it important for you?
Being a multi-sport athlete growing up helped me to develop into the athlete I am today. Playing hockey helped me to become coachable and work as a team. Competitive swimming enabled me to learn to compete individually and set goals to get better.
Academic highlights and how you felt when you received them?
Getting honors in school for my academic grades made me proud. Being a strong student takes a lot of time and effort and I finally felt that it paid off. 
What program would you like to attend in school?
I'm keeping my options open at this time. I have a few areas of study that I am looking into.
How do you envision your school life in college/university?
I want to spend most of my time on the court but have a positive school culture off the court also.
Will understand each and every athlete to ensure your recruiting experience is enjoyable and relaxing.
Regular online group meetings offering support with updates about your recruiting profile.
Will provide full email support during the recruiting process.
Professional athletic resume to be provided.
Will pre-screen in order to work with Canadian,  United States and overseas coaches.