Mia Lemay-Evans
6'1″ Outside / Middle 2024
Team Ontario Black
Six Pack indoor volleyball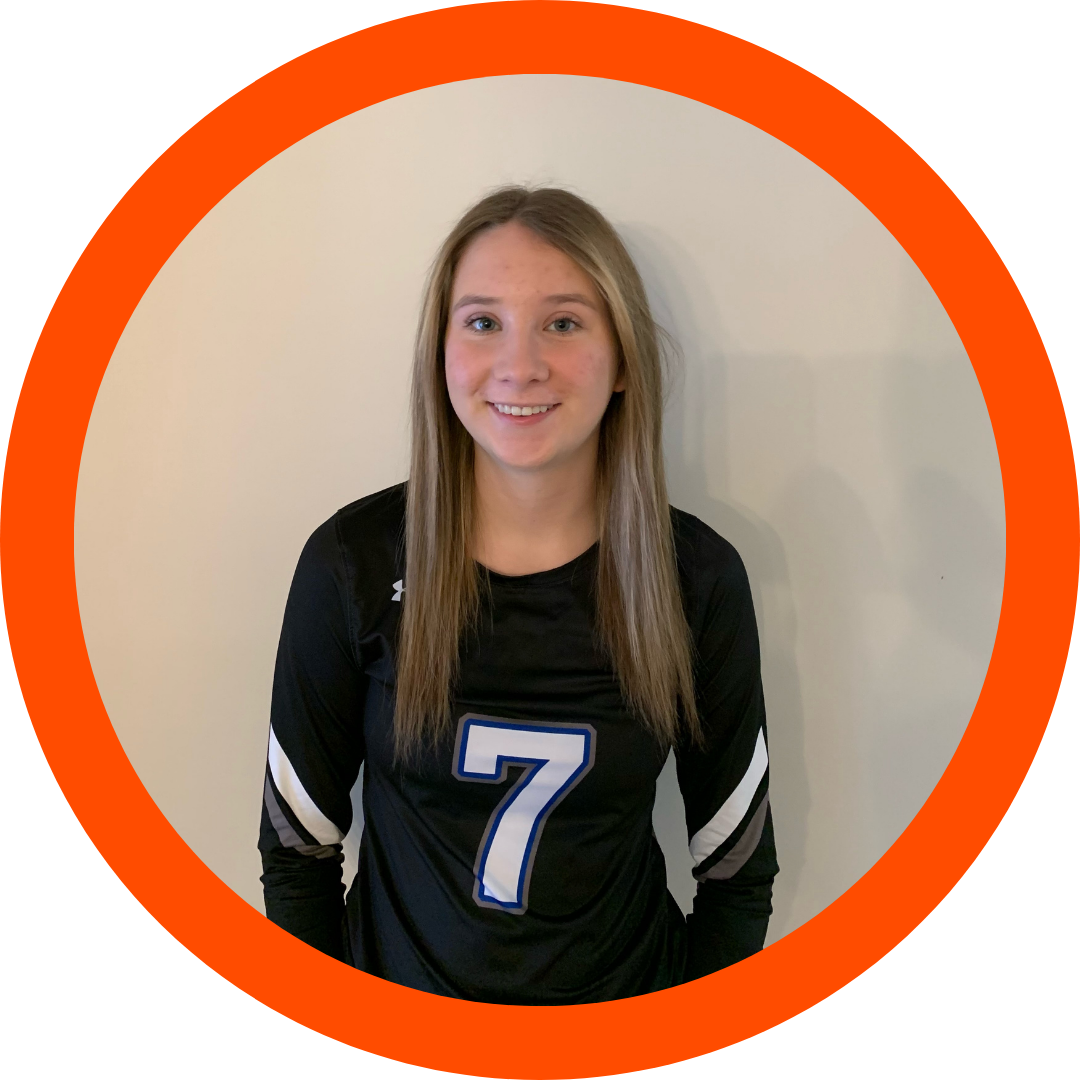 Height: 6'1″
Spike: 9'8″
Block: 9'2″
Reach: 7'9″
Five words you can use to describe yourself on the court.
Encouraging
Driven
Positive
Leader
Focused
Five words you can use to describe yourself off the court.
Caring
Perseverant
Independent
Honest
Reserved
Describe how you work in a team with your partners.
I always support my teammates on and off the court. I don't treat them only as teammates, but as friends and family. I take feedback from my teammates and apply it in situations on the court and off the court.
Athletic highlights and how you felt when you received them:
I was one of four 14u athletes to be invited to the 2019-2020 volleyball recruits showcase. I am a 16u athlete that at times gets asked to play with the 17u and 18u high performance teams, when extra players are needed. I feel proud that my hard work is paying off and being recognised.
What are your interests outside of sports? Why do you like them?
My interest out of sports are reading, camping, spending time with my family and photography. I like these because it relaxes me and allows me to clear my mind. It allows me to forget about the stressors in my life and to refocus so that I can have the proper balance between school, sports and personal activities.
Who are your role models and why?
My role model is my sister, Alexia. She is hard working, perseverant, dedicated and focused on and off the court. She has proven that you can excel in school and in sports. She is the person who introduced me to fitness and training and has helped me through the process. She has been by my side from the beginning and has always encouraged me and showed me support. She has shown with hard work and dedication anyone can achieve their goals. Hopefully I can follow in her footsteps.
Involvement in other sports or extracurricular. Why is it important for you?
Flag football
Downhill skiing
Hiking
Competitive dance
Track and Field
It's important to me because I like to remain physically active and involved in other sports. I believe that sports teach me a lot of life skills such as time management, setting priorities, developing good work ethics and how to handle both failure and success.
Academic highlights and how you felt when you received them?
My academic highlight is being on the Honour Roll throughout my elementary and high school years. It felt like a great accomplishment as all my hard work and time spent on schoolwork payed off.
What program would you like to attend in school?
I would like to go into a science program.
How do you envision your school life in college/university?
I envision university as being challenging and rewarding. I envision myself playing volleyball while still achieving my academic commitments.  It will be a great opportunity to meet new people and develop long-lasting relationships through my involvement in my university's athletic and school communities.
2020 Select Division – GOLD Medalist
2020 Premier Division – BRONZE Medalist
2020 The One to Watch Award
Collège Notre-Dame, Sudbury, Ontario
Would like to pursue a degree in Sciences
Class of 2024
93% average
Honour Roll 2021
I'm a leader on the court and a player who understands that everyone contributes in a different way. I am a supportive team mate who is approachable. I like to spend time reviewing video and analyzing my game on and off the court.
I contribute by supporting my team mates when I am on and off the court. I keep a positive frame of mind during games no matter what the score is and try to keep my team mates in a positive frame of mind. I am the team captain, I lead by example and hold myself as well as my team mates accountable on and off the court. -Mia Lemay-Evans
Outside / Middle / Opposite
High Performance Teams
Team Ontario Black 2022
Team Ontario Elite 2022
Team Ontario Indoor Red 2022
2022 Chill Subzero Volleyball Club
16U Ontario Volleyball Provincial Silver Medalist
Ontario Volleyball Championship Allstar award
Starting outside hitter
Team Captain
2018 – 2021
Played up in age groups
Middle / Opposite
4 year member
Indoor:
(2021-2022) Senior girls volleyball at Collège Notre-Dame
(2019-2020) Select Division – Gold Medalist
(2019-2020) Premier Division – Bronze Medalist
(2019-2020) The One to Watch Award
Team Captain
Most Valuable Tournament Awards
2020 GOLD in Select Divison
2020 BRONZE in Premier Division
2020 The One to Watch Award
Leadership Roles and Volunteerism
Multi Sport Athlete and Participation: 
Volleyball
Beach volleyball
Flag football
Instagram: @volleyballmia_
Will understand each and every athlete to ensure your recruiting experience is enjoyable and relaxing.
Regular online group meetings offering support with updates about your recruiting profile.
Will provide full email support during the recruiting process.
Professional athletic resume to be provided.
Will pre-screen in order to work with Canadian,  United States and overseas coaches.