Ofure Odigie
5'11  Split Blocker
Class of 2024
Six Pack Beach Volleyball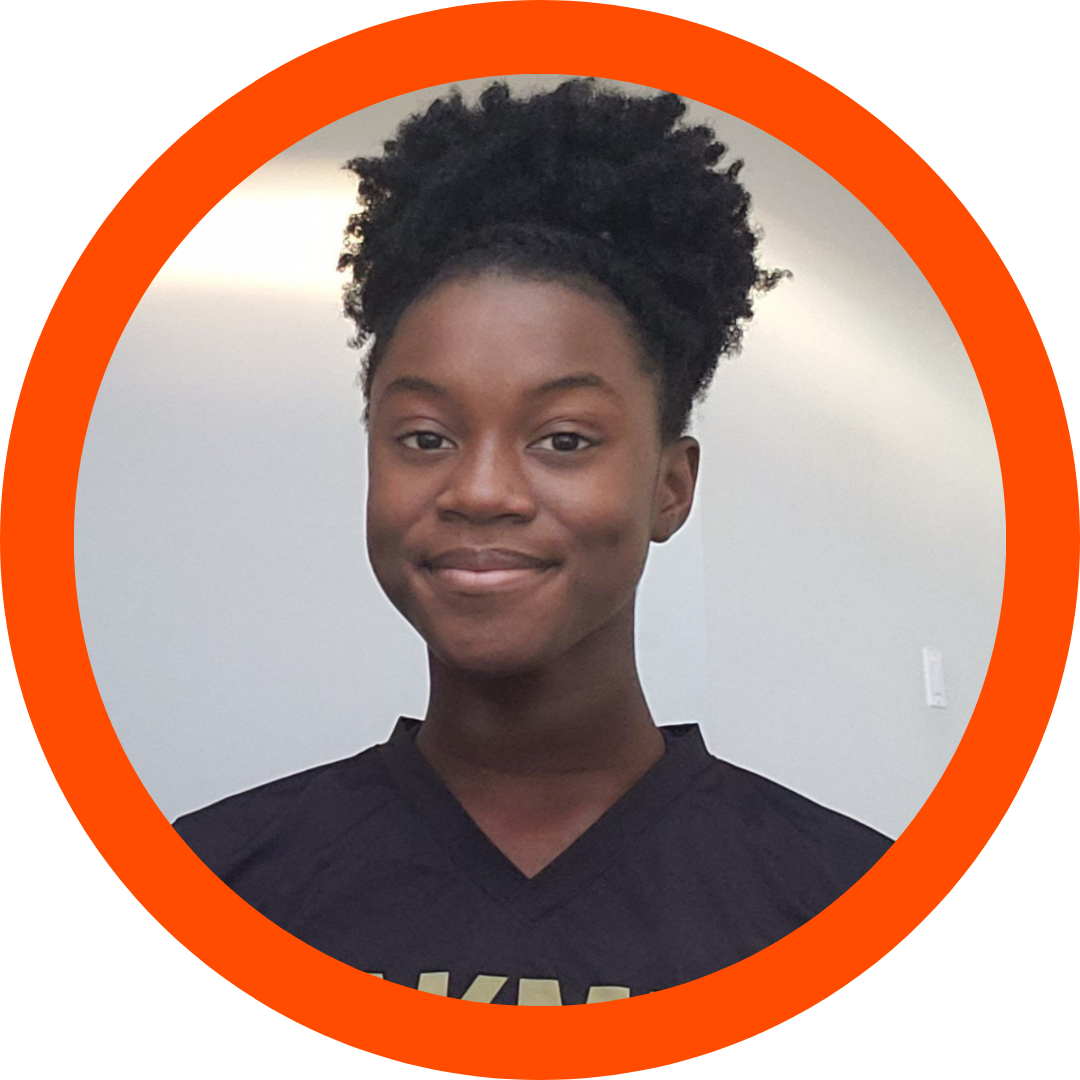 Height: 5'11"
Spike: 10'1″
Block: 9'7″
Standing Reach 7'7″
Serving Velocity: 68 km/hour (float)
I have been playing club volleyball for about 3 years now, after many years of recreational sports. My love for volleyball started from the fourth grade, after watching my older sister play volleyball as well. I remember the first time I tried out for my school's volleyball team in fourth grade, I didn't make the team. I was so sad, but a part of me still wanted to play volleyball, so I joined a development league. The following year, I tried out for the school's team again, and I made it. I continued to train in a recreational league until I decided to go for REP tryouts. In my seventh grade year, I was selected for Pakmen Volleyball's 14u REP team. Since then, my love for the sport continued to grow stronger. During my 14u season, I was still pursuing both competitive dance and volleyball, however, I realized that I was always looking forward to volleyball practices with my team rather than dance classes. This is when I knew I wanted to play volleyball in a post secondary institution. I loved the sport for so many reasons, most importantly, I love being part of a team and knowing that everyone is doing their part to achieve one goal, and the ultimate means of achieving that one goal is by working and communicating together as a team.
Aside from the love I have for volleyball, I am also an academically driven student. I always want to do my best in whatever subject I am enrolled into. Currently, I am an Honour Roll and Knights student (Over 90%), and I have a 4.0 GPA. Right now, I am leaning towards the Biomedical Sciences field and I know that in order to achieve this goal, I will need to balance my sports with my education, which I currently do very well. On the other hand, I am also a very competitive person; I am motivated to be the best. Both on and off the court, I would describe myself as an open-minded, hard-working , and supportive individual. I enjoy working in teams and being challenged by this sport. I like to play smart, hard, but fair, and I love winning those little battles in a game. During my own time, I have volunteered to help out in a local church fundraiser, helping little kids enjoy a fun event during COVID-19, and I've participated in many community charity drives.
My biggest volleyball achievement to date has been a back-to-back finish of fourth and first place, playing in my first Ontario Beach Provincials in 2021.  My goal is to become a great all-around volleyball player, and continue to play volleyball throughout my secondary and post-secondary years, while improving and learning along the way. Though COVID-19 has been a major setback for all athletes, it has motivated me even more to put in the hours of training and workouts, so I can be a better athlete than I was last year.
Ofure Odigie
Five words you can use to describe yourself on the court.
Competitive
Energetic
Coachable
Driven
Supportive
Five words you can use to describe yourself off the court.
Friendly
Responsible
Analytical
Empathetic
Adventurous
 Describe how you work in a team with your partners.
I am a team player; I support my teammates and partners whether on the volleyball court or in a school activity. On the court, I would describe myself as a positive person, always trying to motivate my teammates whether we are up by two points or down by five. I love being surrounded by a winning team culture. When working in a team I value each player doing their part, and I trust my teammates to do their parts.  As part of a winning team culture, I consistently work hard, learn from constructive criticism, and play smart on the court.
 Involvement in other sports or extra-curricular. Why is it important for you?
I have always been an athletic student. I have been involved in many recreational and competitive sports both in and out of school. In my elementary school years, I participated in virtually every school sport. I played basketball, volleyball, soccer, track and field etc. Outside of school, I began my journey as an athlete in recreational swimming, skating, gymnastics, and competitive dance. Growing up as an athlete, I find that it is important to play everything. It allowed me to find the sport that I loved most, which is volleyball.
What are your interests outside of sports? Why do you like them?
Outside of sports, I actually enjoy different forms of art. Most recently, I have found myself painting, drawing, and even competing in art competitions this past year. I enjoy the process of beginning with a blank sheet of paper and creating whatever my imagination can produce. Aside from art, I like to have fun in my leisure time; I like enjoying the little moments that I spend with my friends and family.
Who are your role models and why?
My parents are definitely my biggest role models. They have always been my support system for any career, sport, or academic path I choose. They are the main reason why I can and have been playing volleyball for the past three years. My parents were the first people to teach me the essence of hard-work, never giving up, and striving for a goal despite what others might say. They will always be my biggest supporters, and I am thankful to have them watch and support me from the sidelines.
Academic highlights and how you felt when you received them.
My favourite academic highlights include receiving the 2020 Principal's Award for Overall Achievement, 2021 Honour Roll and Knight's Club Awards. Receiving these awards is a second reminder that hard work pays off. They were especially nice to receive after a difficult year through online schooling.
What program would you like to attend in school?
I am currently very interested in Biomedical Sciences, and I have been for a while. I would love to pursue a career path in this direction, as I love education in this field, and I aspire to one day discover a cure to a disease that will positively impact many peoples' lives.
 How do you envision your school life in college/university?
Looking at my university life which is coming up in the very near future, I envision a new change in atmosphere. I envision new responsibilities and independence. I want my life on campus to be in a safe, positive, community-driven environment, and I hope to value my time on-campus like a second home. Though I expect my post-secondary life to be a large and unfamiliar change, I hope to enjoy the whole process, from recruiting and admissions to my first day on campus.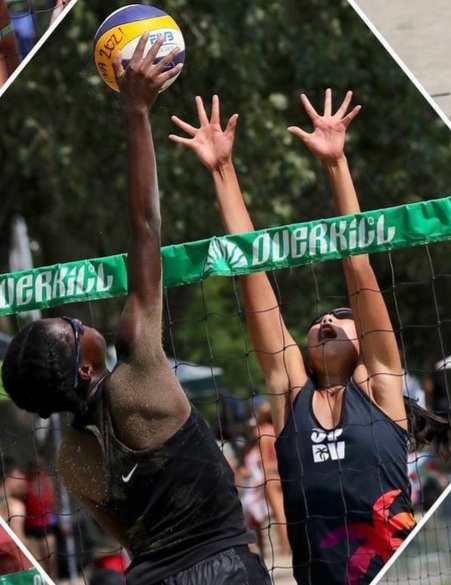 Clubs and Program Involvement
2022 – present Halton Hurricanes Volleyball Club 
17U High Performance Team
Outside Hitter
2019 – 2021 Pakmen Volleyball Club
14U – 17U high performance team

17U D1T1 Provincial Silver Medalist (playing up)

Outside hitter
2022
Canadian Beach Nationals 
2022 Ontario Beach Provincials 
17U D1T1 Gold Medalist

16U D1T1 Silver Medalist
2021 Ontario Volleyball Beach Provincials
16U D2T1 Gold Medalist
15U D1T1 Fourth Place
2021 BVNE / SixPackRecruiting International Beach Event
2nd annual International virtual beach event
16U Silver Medal
Silver Bracket
Notre Dame Catholic Secondary 
Class of 2024
4.0 GPA
2020 Honour Roll Student
2020 Principal Award for overall achievement
2021 Knight's Club Award
Multi Sport Athlete
Volleyball
Beach Volleyball
Track and Field
2020  Athlete of the Year 
Volunteer and Leadership
2021 Halloween Fund Raiser Event
2020 World Issues Club

Charity drives
Retirement community support
Will understand each and every athlete to ensure your recruiting experience is enjoyable and relaxing.
Regular online group meetings offering support with updates about your recruiting profile.
Will provide full email support during the recruiting process.
Professional athletic resume to be provided.
Will pre-screen in order to work with Canadian,  United States and overseas coaches.