PAYTON GAYLOR
6'0″ Opposite
Class of 2024
2022 Team Ontario Black
Six Pack indoor volleyball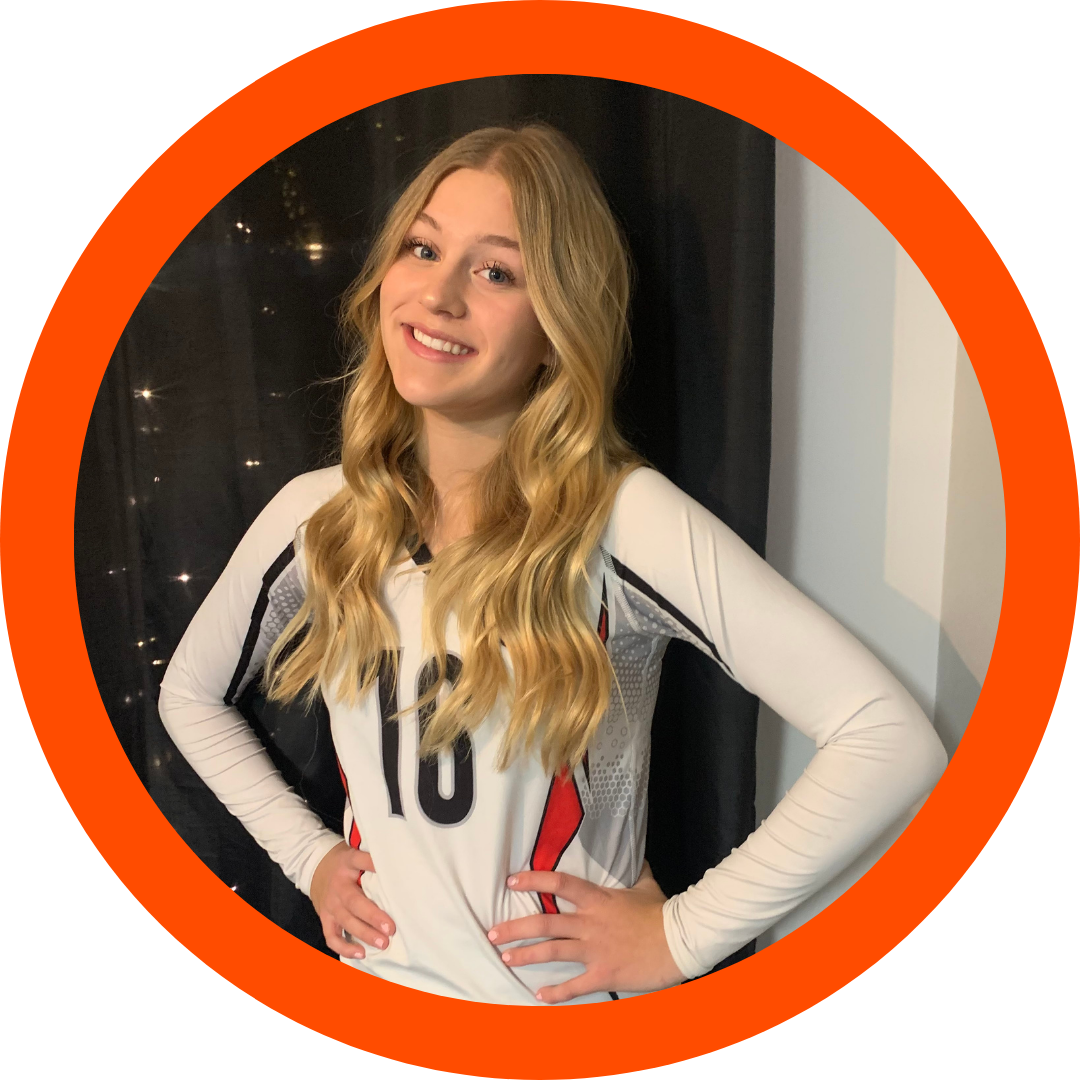 Height: 6'0
Spike: 9'7″
Block: 9'1.5″
Reach: 229 cm
Wingspan: 177 cm
Serve Velocity: TBD
DUE TO COVID – TOURNAMENT PLAY HAS BEEN IMPACTED
Five words you can use to describe yourself on the court.
Supportive
Energetic
Motivated
Focused
Intelligent
Five words you can use to describe yourself off the court.
Loving
Hard-working
Reliable
Ambitious
Positive
Describe how you work in a team with your partners.
Volleyball is all about collaboration whether you are on the court or off. Being a supportive teammate is a huge deal to me as I want to make sure everyone knows what is going on, on the court! . Commutation is the key to success so being able to communicate with my teammates is a way all of us as a whole will be successful!
Athletic highlights and how you felt when you received them.
Reviving athlete of the year! It made me feel very happy as my hard work and devastation from working out daily and training paid off! I feel as an athlete that things don't come easy, you have to work for them so being able to receive this award really gave me even more motivation!
Involvement in other sports or extra-curricular. Why is it important for you?
I love supporting my community, so being able to play a year up with the senior volleyball team is the best experience.
Supporting a program that helps develop volleyball skills (Court time). This is important to me because working with younger children who are just learning really taught me patience as everyone works in different paces!
What are your interests outside of sports? Why do you like them?
I enjoy hanging out with family and friends. Seeing them happy makes me happy so being able to hangout and do something fun with both my family and friends is something I love to do outside of volleyball! I also love working out, working out is something I do in my free time a lot as it helps me develop muscles that I'd use in the game.
Who are your role models and why?
Sarah Pavan is a role model to me cause she's an incredible human being who inspires not only me but many other young teens to stay motivated, keep pushing for dreams and to ultimately try your hardest in everything you do! The way she plays volleyball is honestly such an inspiration to watch and look up too!
Academic highlights and how you felt when you received them.
Reviving Honor roll in all, grade 8, 9 and 10 really made me feel a sense of compassion. Receiving academic highlights like this keeps me motivated, and it shows hard work does pay off! My hard work of staying up late and studying really paid off!
What program would you like to attend in school?
I want to get my 4 year bachelor of science degree then apply to dental school and in the future become an Orthodontist!
How do you envision your school life in college/university?
Volleyball is my passion in life so being able to play it in university is a dream of mine! I can't wait to practice, train and play regularly and become the athlete I've always dreamed of being! That being said, I can envision myself waking up every morning training, then practicing, going to school for a period, then going into the gym to practice again! It really draws my attention because of all the training and volleyball that is done!
St. Stephens Catholic Secondary School, Bowmanville, Ontario
Would like to pursue a degree in…
Class of 2024
92% average
3.9 GPA
Honour Roll
I am very hardworking and will do anything it takes to improve not only my athletics but my academics. I'm always trying to put others before me so they know they have a supportive team mate no matter what, on and off the court. I feel as I'm a very motivated person. I'm always trying to improve, play and practice to the best of my abilities and do well in school! -Payton Gaylor
Clubs and Program Involvement
Team Ontario Black
2022 Leaside Volleyball Club
U17 Wildfire 2022 season
Opposite hitter
U17 Provincial Cup, Gold Medal
2021 Durham Attack Volleyball Club
U16 Blaze 2021 season
Opposite hitter
Indoor:
St. Stephens Secondary senior girls volleyball team (2022)
Most Valuable Tournament Awards
Female athlete of the year – 2022
Achievement of Excellence Award – 2022
All around athlete of the year (Grade 8)
Leadership Roles & Volunteerism: 
Volunteered with Court Time 

Volleyball development with Scott Nash (Durham Attack 15U coach) and Tony Clark (Durham Lords College coach

Volunteered with Durham Regional Police's Food and Toy Drive
Multi Sport athlete and participation: 
Volleyball
Hockey
Gymnastics
Instagram: @paytongaylor16
Will understand each and every athlete to ensure your recruiting experience is enjoyable and relaxing.
Regular online group meetings offering support with updates about your recruiting profile.
Will provide full email support during the recruiting process.
Professional athletic resume to be provided.
Will pre-screen in order to work with Canadian,  United States and overseas coaches.