Rachel Meagher
Setter
Class of 2027
Six Pack indoor volleyball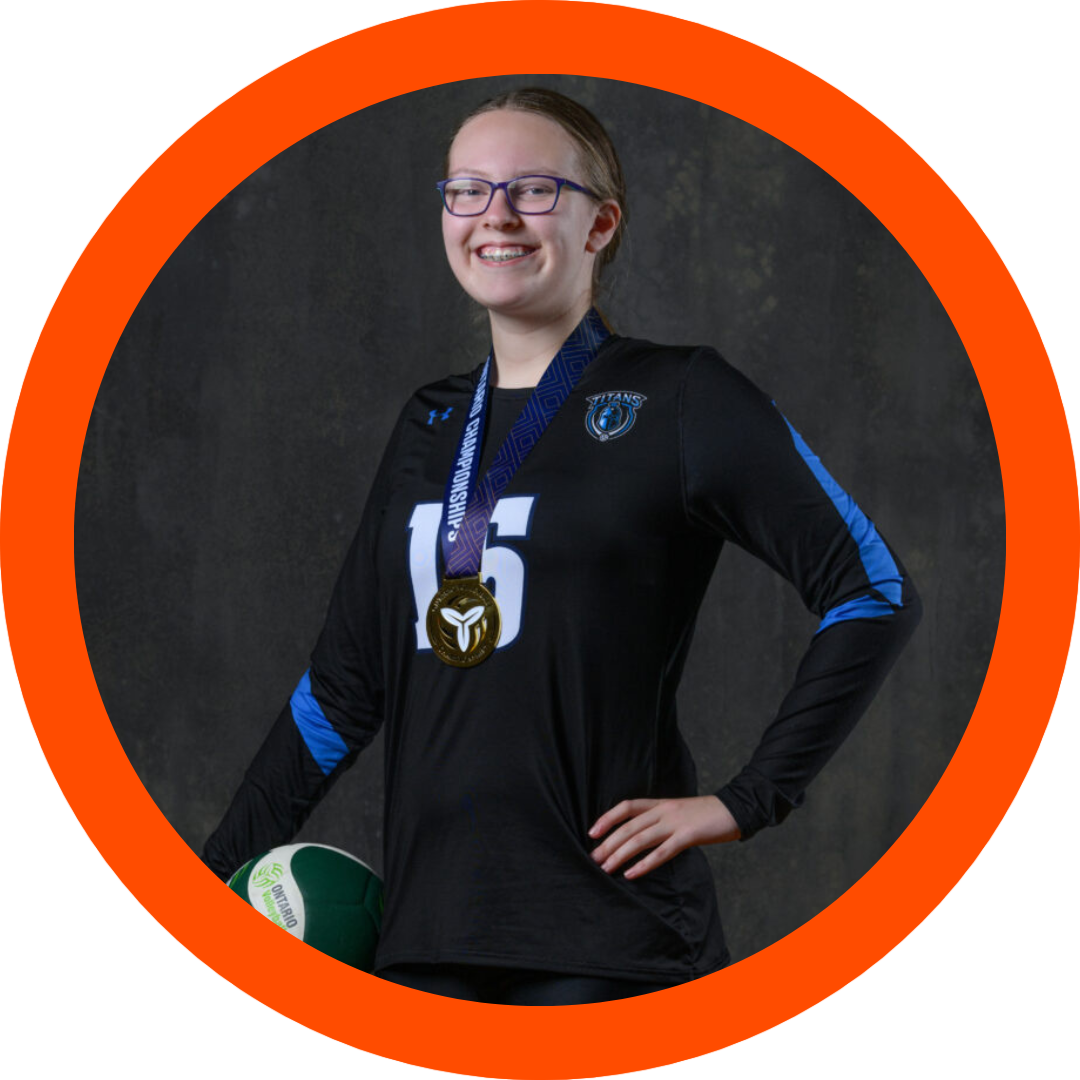 Discipline for Recruitment: Women's Indoor Volleyball
Height: 6'2″
Spike Touch: 9'3″
Block Touch: 9'0
Standing Reach: 7'9″
Wingspan: 6'1″
Vertical: 18.5″
Other physical testing:
10m dash – 2.5
Bench press – 45lb
Squat – 45lb
Power clean – 45lb
2022-2023: Titans Athena 14U A Team: Setter
2021-2022: Titans Athena 13U Comp. Team ~Div.1 Tier 2 Provincial Gold Medalists
2020-2021: Titans Athena 12U (no competitions/Covid year)
2019-2020: Titans Athena 11U (season interrupted by Covid)

August 2022: AWA arm swing clinic
July 2022: Tall Maples (Team Ontario HP)

2022-2023 Middle school volleyball team- Setter

Mentor College (college stream)
Mississauga, ON
2027
88.5%
Honor Roll-2022
3.9 GPA
Engineering/Animal studies

2nd Place Div.1 Tier 3 2023 Provincials (18th)
1st Place Div.1 Tier 2 2022 Provincials (17th)

Leaders For Change (school)-2022/23
Toronto Cat Rescue Volunteer-2017-2020 ~cage prep. and cat socialization to help adoption of cats in the Toronto area
Five words you can use to describe yourself as a high performance athlete.
Determined
Enthusiastic
Focused
Supportive
Positive
Five words you can use to describe yourself off your field of play.
Fun
Artistic
Caring
Creative
Well-read
Describe how you work in a team.
I work hard to bring out the best in my teammates by being positive and encouraging them to try again when a mistake is made.
Athletic highlights and how you felt when you received them:
What are your interests outside of sports? Why do you like them?
Music- it helps me focus
Animals- they're cute
Art- interesting to create things with different materials
Who are your role models and why?
Anna Smrek – She is a successful Canadian volleyball player
Involvement in other sports or extracurricular. Why is it important for you?
Art Club
Jazz Band
Origami Club
Leaders for Change
Bracelet Club
Cross Stitch Club
I like being involved in different activities to learn new things
Academic highlights and how you felt when you received them?
Honor Roll (college stream) – proud of my work
What program would you like to attend in school?
I'm still deciding, but something in building or animals is interesting right now.
How do you envision your school life in college/university?
Playing volleyball in a small university town.
Will understand each and every athlete to ensure your recruiting experience is enjoyable and relaxing.
Regular online group meetings offering support with updates about your recruiting profile.
Will provide full email support during the recruiting process.
Professional athletic resume to be provided.
Will pre-screen in order to work with Canadian,  United States and overseas coaches.