Scarlett Finch
Left-handed Right Side Hitter
Class of 2026
USPORTS # xxx-xxx-1CC
NCAA # xxx-xxx-6543
Six Pack indoor volleyball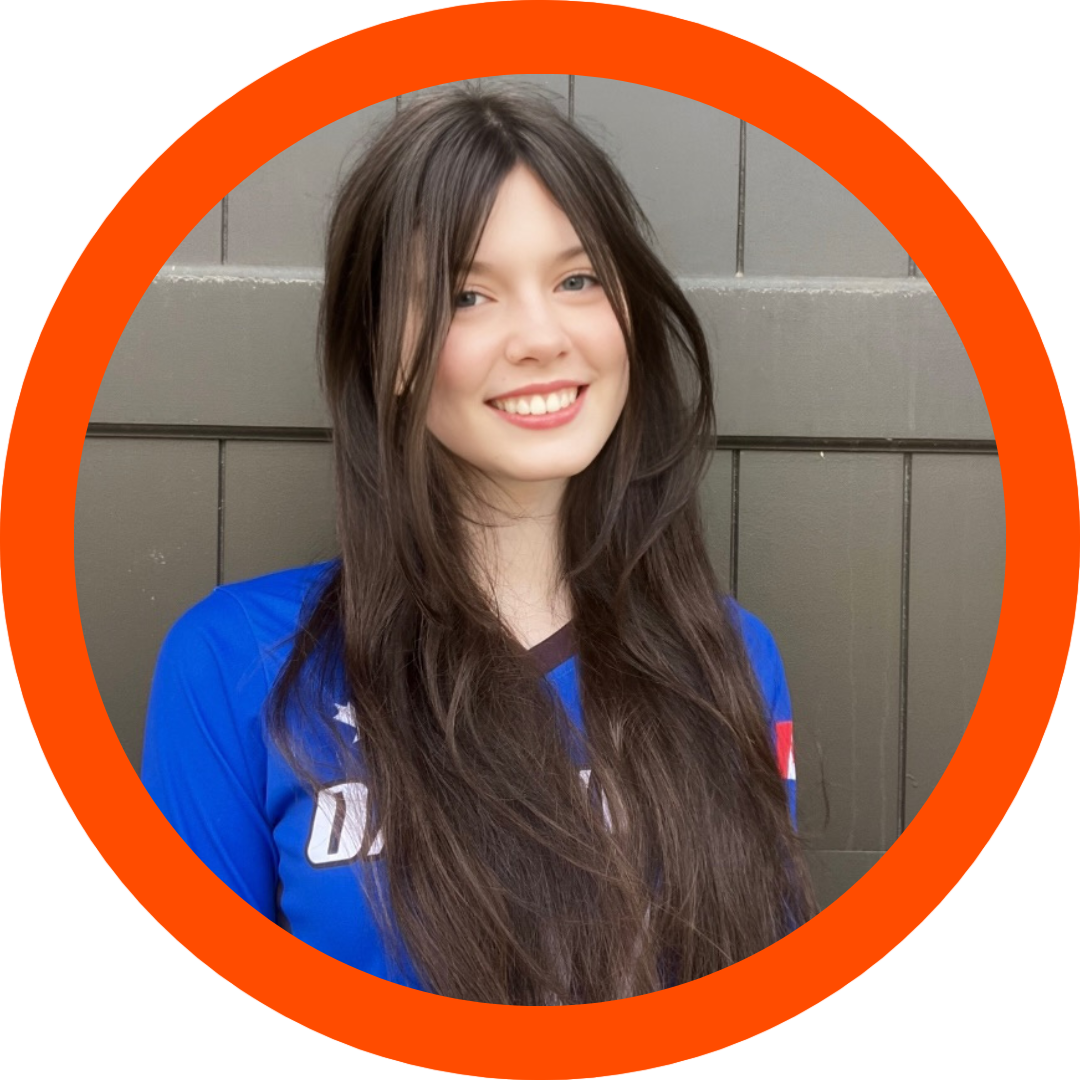 Discipline for Recruitment: Women's Indoor Volleyball
Height: 5'10"
Spike Touch: 9'1″
Standing Reach: 7'6″
2023-24
Titans West - Oceanus
Position: Right Side

2022-23
Oakville Thunder - Rumble
Position: Right Side
Additional Skill: Trained Setter
15U Ontario Championships - Gold (D1T3)
15U McGregor Cup - Gold (Select)
16U McGregor Cup - Gold (Trillium White)
15U Provincial Cup - Gold (Championship)
16U Provincial Cup - Gold (Trillium White)

2021-22
Titans West - Athena
13U Ontario Championships - Gold (D1T2)

High School Junior Volleyball Team - Setter

Grade 9 Honour Roll
86% Average
Graduating Class of 2026

2022/23 Junior Girls Volleyball Novice/Bantam MVP
Five words you can use to describe yourself as a high performance athlete.
Consistent
Focused
Dependable
Positive
Disciplined
Five words you can use to describe yourself off your field of play.
Hardworking
Thoughtful
Loyal
Modest
Caring
Describe how you work in a team.
I am a positive influence both on and off the court. I always put forth my best effort in both games and at practice. Whether my teammates are doing well or struggling, I am always supportive of them and let them know that I am there for them and know that they are doing their best. I am always ready to provide whatever help is needed both on and off the court. What is best for the team is always my priority.
Athletic highlights and how you felt when you received them:
2022-23 season's athletic highlights:
15U Ontario Championships – Gold (D1T3)
15U McGregor Cup – Gold (Select)
16U McGregor Cup – Gold (Trillium White)
15U Provincial Cup – Gold (Championship)
16U Provincial Cup – Gold (Trillium White)
Each time my team has won a gold medal I have felt so proud of us. My team and I work so hard to be the best that we can be and we've come a long way since the beginning of this season. I have formed so many friendships with my teammates that I know will be lifelong. There is something really special about individuals coming together as a team and working together to become something far more powerful than what any of us could be on our own. There is a certain magic on the court when we are all working in perfect synchronicity with each other.
What are your interests outside of sports? Why do you like them?
I am very passionate about visual arts and have been accepted into the Peel Region Visual Arts program for high school. I enjoy using different mediums for my arts including, pencil, paints and I also enjoy digital art. I spend many hours in my room drawing. It is very relaxing and grounding to recharge after a tournament by sitting down quietly and creating new artwork.
Who are your role models and why?
My role models are my coaches. They have given me so much of their time and attention so that I could become the person that I am today and the person I hope to be in the future. Their dedication to my growth as a person and as a player has shown me that I have value and as a result I strive to be a positive influence when I go out into the world because I know that I belong and that I can make a difference just like they have made a difference in my life.
Involvement in other sports or extracurricular. Why is it important for you?
I have tremendously enjoyed being part of my high school's art club. It has been an excellent way for me to connect with other students who are also interested in visual arts. I really enjoy the athleticism and comradery of volleyball and also the quiet serenity of creating artwork. I could not see myself being without either in my life.
Academic highlights and how you felt when you received them?
Accepted into a regional International Business and Technology program for middle school.
Accepted into a regional Visual Arts program for high school.
Currently achieving an 86% average in Grade 9.
I feel very proud of myself for these achievements. I work very hard at school and am so happy when my hard work pays off. These achievements show me that I can do anything that I set my mind to. Knowing that gives me the confidence to dream big when it comes to my future both academically and in volleyball.
What program would you like to attend in school?
I am currently considering going into sports medicine. Once I have achieved all that I can as an athlete, I would like to help other athletes achieve all that they can too. I think that travelling with a professional team as their sports medicine physician would be incredibly exciting and rewarding and would also allow me to remain in the sports world for my entire career.
How do you envision your school life in college/university?
In university I would like to be a starting player on a varsity volleyball team. I am a quick learner and very driven and I know that I would excel as a varsity athlete and as a student. I look forward to meeting new teammates and friends and also look forward to challenging myself both on and off the court. Being away from home and having to rely completely on myself is something that makes me both nervous and excited. I look forward to growing as both a person and a player during my university years while working to achieve success academically and also athletically as part of a varsity volleyball team.
Will understand each and every athlete to ensure your recruiting experience is enjoyable and relaxing.
Regular online group meetings offering support with updates about your recruiting profile.
Will provide full email support during the recruiting process.
Professional athletic resume to be provided.
Will pre-screen in order to work with Canadian,  United States and overseas coaches.